Black Horse Hydraulics Service
The oil and gas industry relies on hydraulic well service pressure pumps for a variety of fracturing, acidizing and stimulation operations. A division of Cleveland Brothers, your locally authorized Cat® dealership, CB HYMAC is a go-to source for expert Black Horse hydraulics repairs, rebuilds and remanufacturing. We're a leading hydraulic cylinder, pump and motor shop in Pennsylvania and Northern West Virginia providing the broad service offerings you require to keep costs down and improve your bottom line.
Certified Black Horse Pump Fluid Ends Rebuild Center

CB HYMAC is an official Cat Component Rebuild Center (CRC) proving comprehensive solutions to the oil and gas industry. We offer authorized fluid ends repairs and warranty work on Black Horse hydraulic well service pumps. All CRC work is performed by highly trained technicians focused on delivering the most efficient and effective solutions.
Whether you require a fast turnaround on fluid end repairs or long lifecycle rebuilds on Black Horse hydraulics, you'll receive the highest-quality service backed by the best customer service in the industry. In addition to offering Cat Certified Rebuilds, we also are equipped to work on pump fluid ends and hydraulic components manufactured by other leading Allied brands.
Additional reasons to choose us as your Black Horse Hydraulics shop include:
Unmatched product knowledge and technical support capabilities
Repairs and rebuilds performed using genuine Cat parts whenever possible
Massive inventory of replacement parts and ability to source difficult-to-find products
Access to latest technical support and service bulletins from Caterpillar
Professional hydraulic hose repairs executed in 30 minutes or less
REASONS TO REBUILD YOUR BLACK HORSE HYDRAULIC PUMPS AND EQUIPMENT
At CB HYMAC, we understand the normal strain that oil and fracking equipment is placed under on a daily basis, enduring harsh climates and demanding work conditions. Black Horse frac pumps, power ends, fluid ends, and valves were specially designed and manufactured by Caterpillar to withstand the heavy-duty performance standards determined by the oil and gas industry. To protect your investment and improve the performance and efficiency of your equipment, rely on CB HYMAC to rebuild your existing Black Horse machinery.
Our advanced, climate-controlled Black Horse rebuild center can perform complete rebuilding services using the latest tools and the most skilled technicians to deliver long-term value and improved fleet durability, reliability and performance. At CB HYMAC, our Certified Rebuild programs comply with the strictest Caterpillar requirements, utilize genuine Cat parts, and incorporate the latest Cat engineering upgrades and features for exceptional functionality.
When you rely on the CB HYMAC Black Horse rebuild center for all your hydraulic maintenance, repair, and rebuilding needs, you can experience several unmatched benefits:
Investment protection: When your hydraulic equipment isn't performing as efficiently or dependably as it once did, protect your investment and avoid prematurely replacing machinery with rebuilding solutions. Black Horse frac pump rebuilds will restore your equipment to pristine condition.
Equipment improvements: Equipment rebuilds not only restore efficient functionality to your machinery, but also give owners the opportunity to upgrade components with the latest engineering and features. With improved technology, you can streamline Black Horse frac pump performance and boost daily efficiency and uptime without a significant investment.
Free up capital: To grow and expand your business, you need to have available capital to invest. But if you're constantly purchasing new equipment, you can't plan for the future. Rebuilds allow businesses to invest in the latest equipment improvements while keeping their existing machinery. The CB HYMAC Black Horse rebuild center provides you with the latest improvements at a fraction of the cost, giving you the flexibility to invest in other initiatives.
CB HYMAC — PROVIDING COMPLETE BLACK HORSE HYDRAULICS SERVICE
As the best Cat dealer in Pennsylvania and West Virginia, we provide world-class rebuild and repair capabilities for Black Horse and other manufacturers at our advanced facility. Our highly trained team understands the latest industry requirements and techniques for properly servicing all Black Horse equipment.
With comprehensive solutions, complete with expert guidance, accurate diagnostics, and repairs completed with genuine Cat parts and sophisticated equipment, CB HYMAC is here to improve the efficiency and performance of your fleet, minimize costly downtime and increase your profits. CB HYMAC offers the widest variety of Black Horse equipment services, including:
Cylinder services: Our Black Horse rebuild center creates and maintains your equipment's cylinders to prioritize safety, efficiency and dependability.
Fluid analysis: With routine oil and hydraulic fluid analysis, our team will sample, test, and determine the contamination levels of your fluids to establish the health of your equipment and provide guidance on necessary machinery repair and maintenance.
Chroming and polishing: Protect your equipment against corrosion and rust with routine chrome plating and polishing. Our outstanding chroming capabilities can cover up to 38 horizontal feet and 10 vertical feet.
Hydraulic hose repair and replacement: When your hydraulic hoses begin to fail, rely on our team to make hose repair and replacements convenient, fast and affordable.
Condition monitoring: Have access to real-time information on the condition of your equipment and receive guidance on proper maintenance and repairs.
Full-Service Black Horse Hydraulics Shop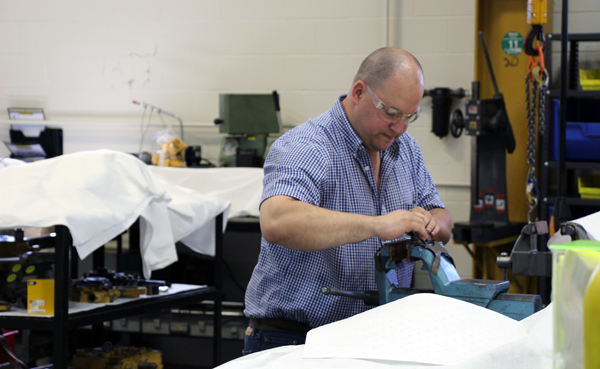 CB HYMAC provides everything you require to maintain and improve flow rates and get the most out of your hydraulic well service pumps. Our component rebuilds lower the cost of ownership and helps breathe new life into older, failing equipment. In addition to repairs, rebuilds and remanufacturing of power ends, pump fluid ends crankshafts and hammers, we also specialize in chrome and polishing to resurface components to OEM condition.
We're your local partners for preventive maintenance including advanced fluid analysis. Regular fluid testing ensures you're in tune with the health of your hydraulic equipment to stop component failures before they happen. All your service records are stored in our secure electronic system, making it possible to identify trends that could indicate the potential for future breakdowns and other areas of concern.
When you partner with us to repair and rebuild your well service pumps and related components, you benefit from:
Flexible service options
Available Cat Connect technology
Engine repair capabilities
On-site repairs and diagnostics
Contact Us About Servicing and Repairing Your Pump Fluid Ends
Trust the experts at CB HYMAC for repairs, rebuilds and remanufacturing of Black Horse hydraulics. Visit our conveniently located hydraulic and machining shop, or get in touch with us online or on the phone today for more information.