Industrial Hydraulic System Rebuilds and Repairs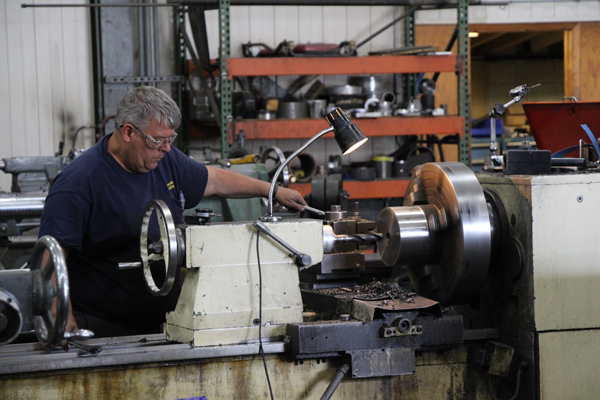 The industrial and manufacturing industries call on a variety of different equipment and machines to maximize productivity. When the hydraulic system on your Cat® skid steer loader breaks down, or your aerial work platforms need refurbishing, it pays to have a reliable source for industrial hydraulic repair and equipment rebuilds in Pennsylvania and Northern West Virginia. CB HYMAC is a full-service hydraulic cylinder, pump and motor shop with expertise in rebuilds, machining and chroming.
Your Source for Efficient Industrial Hydraulic Repair Solutions
Whether you need a custom hydraulic component for a unique industry application or an emergency repair on a pump or motor, CB HYMAC offers a broad selection of services. Our mission is to accurately diagnosis the problems you are having with your industrial hydraulic systems to control repair costs and eliminate downtime. We can even complete hydraulic hose repairs in 30 minutes or less.
CB HYMAC is a division of Cleveland Brothers, the authorized Cat dealership for the region. We have direct access to technical support and service bulletins provided by Caterpillar and use genuine Cat parts whenever applicable. In addition to our extensive knowledge of Cat equipment, our highly trained technicians are experienced working with industrial hydraulic components and systems manufactured by other Allied brands.
When you partner with us, we'll keep detailed records of your service history to identify trends that reveal emerging issues with your hydraulic systems. Benefits of choosing us for your industrial hydraulic repairs include:
Ability to quickly track down rare and hard-to-find replacement items
Advanced diagnostics and fluid analysis capabilities
Large variety of industrial hydraulic system maintenance supplies
Experts at Rebuilding Industrial Hydraulic Systems
There's peace of mind in taking your equipment to a commercial industrial hydraulics shop that's an official Cat Component Rebuild Center (CRC). From complete system and component rebuilds, crankshaft rebuilds and fluid end repair and manufacturing to chrome and polishing, computer numerical control (CNC) machining and laser clad, we offer the precision machining and welding to restore parts to OEM specifications.
Additional benefits of choosing CB HYMAC to rebuild your commercial industrial hydraulics systems include:
Conveniently located hydraulic repair shop serving Pennsylvania and Northern West Virginia
Attentive customer service from experienced industry professionals
Competitive prices on customized industrial hydraulic system solutions
Get in Touch With Us About Industrial Hydraulic Repairs and Rebuilds
Let the experts at CB HYMAC look after your mission-critical hydraulic systems to keep your operation running at full capacity. Give us a call, contact us online or stop by our location to speak with a knowledgeable representative. We'll be happy to answer all your questions about repairing, replacing or rebuilding your commercial industrial hydraulic equipment.