Hydraulic Remanufacturing and Other Machining Services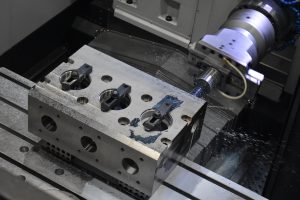 When the work you need to complete relies on complex machinery with many smaller parts, it's critical that each component operates at full capacity. CB HYMAC is a proud division of Cleveland Brothers, your local Cat® dealership, and we can manufacture individual components to repair or replace your hydraulic cylinders, motors and pumps. With a large machining capacity that can apply to components up to 11 feet in width and seven feet in height, we have a number of important servicing capabilities to suit your precise requirements.
Hydraulic Machining Servicing Capabilities at CB HYMAC
We are an official Cat Component Rebuild Center, and we don't consider any alternative to providing repairs and rebuilds completely certified to the highest Cat standards. We're proud of our superior knowledge of Cat equipment, and our highly-skilled experts regularly apply that information to components from other machinery manufacturers as well.
Our extensive list of hydraulic remanufacturing capabilities includes:
Boring – We offer turning and boring up to 48". If your equipment requires it, we can add metal to the inside of your worn or damaged bores using a welding process. When we do, we follow with precision machining so that a new bearing or pin can be properly press fitted. We offer repair bores from 1.25" to 16", and we work on block, counter, block align and cylinder boring.
Reconditioning – We can recondition various machine parts for optimal performance, including hitch pins, differential supports and pinion housings.
Honing – We offer honing machine services when necessary, including precise valve honing.
Milling – Our Summit Mill machine gives us a range of 11 feet wide by seven feet high.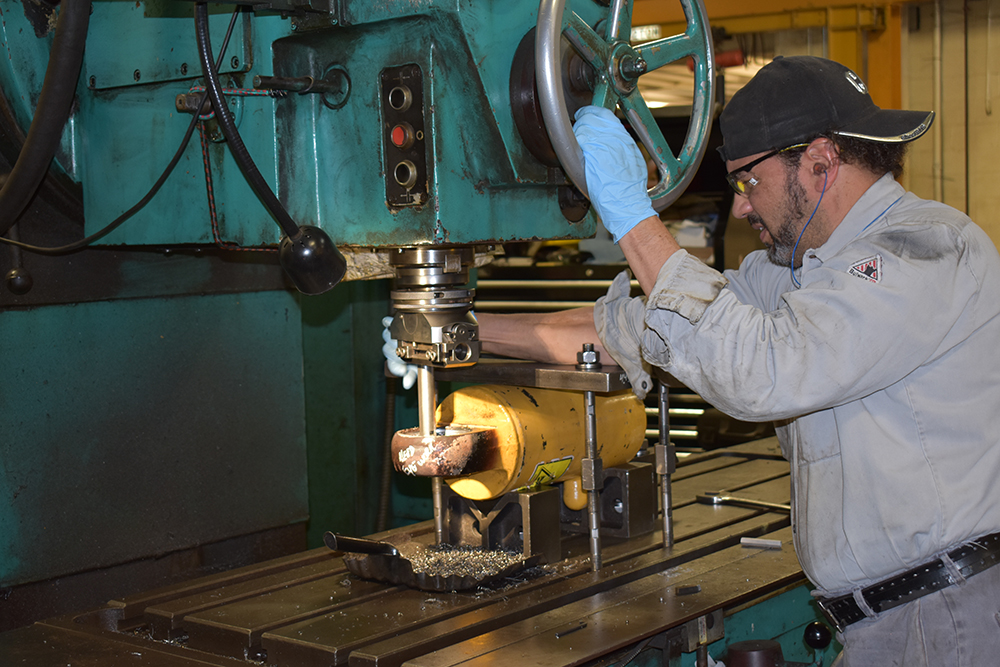 Other important hydraulic remanufacturing capabilities we have at CB HYMAC are grinding and polishing, lathe work, and block resurfacing. Our certified MagnaFlux testing allows us to inspect even your most sensitive equipment and identify defects that could keep you from important progress. Overall, we can work on a single part or perform extensive hydraulic remanufacturing focused on long-run production — we'll get the job done no matter how big or small.
We also take advantage of Computer Numerical Controlled (CNC) machining capabilities. In this particular manufacturing process, computerized devices execute a wide range of precise cuts to manufacture a specific component or product. This allows for the quick removal of metal material in large amounts, and it's a highly accurate operation that can be applied repeatedly for a quick turnaround. This is an ideal process for various types of substrates, and it allows for scalable volumes from one to one-hundred thousand.
More Hydraulic Remanufacturing Options and Why to Choose CB HYMAC
We keep a team of experienced field service machinists on hand at all times so you can get quality repairs. The benefits of choosing CB HYMAC as your machine shop don't stop there, however. More reasons to choose us include:
We compile every service record you have with us electronically. This helps us to notice trends in your equipment that could indicate potential problem areas in the future. We have a better chance of finding and stopping areas of concern before they hinder your progress.
Our dedication to Cat quality leads us to apply genuine Cat components at all possible times.
If you come to us with a request for hard-to-find replacement items, we can quickly source and deliver them despite the challenge.
We stay leaders in the industry through our exclusive access to Caterpillar data, advice, service bulletins and technical support.
If you need hydraulic hose repairs or services for your entire fleet, our experts will build, certify, clean and cap in 30 minutes or less.
Contact Us for Hydraulic Remanufacturing Done Right
We have experience offering our hydraulic reconditioning and other machining services to businesses in industries like construction, manufacturing, mining, oil and gas, agriculture, government and utilities, among others. When it comes to finding a machine shop you can trust for your hydraulic remanufacturing in the Pennsylvania or Northern West Virginia regions, CB HYMAC has you covered no matter what line of work you're in. Contact us today for more information or for an appointment for your specific hydraulic reconditioning.