Hydraulic Hammer Repairs and Rebuilds at CB HYMAC
When you have important work to complete in a limited amount of time, CB HYMAC is here to make sure your equipment runs smoothly in the most crucial moments. Hydraulic hammers often need repairs and rebuilds, and we have the expertise to work on your hammer – no matter the make or model.
Experts at Repairing and Rebuilding Hydraulic Hammers
We are a division of Cleveland Brothers, your nearby, certified Cat® dealership. We thoroughly train our skilled technicians to work on components from the Cat brand as well as other leading heavy equipment manufacturers. We apply certified Cat standards to repair and rebuild the widest range of hydraulic hammers available using our most effective hydraulic hammer tools: our cutting-edge test bench and hammer pit.

Our hydraulic hammer test bench verifies the repairs we make and helps to eliminate the possibility for future failures, so you can rest assured your equipment will remain effective.
REBUILD AND REPAIR DAMAGED HYDRAULIC HAMMERS WITH CB HYMAC
Every demolition and construction crew needs the most durable and hard-working equipment to get the job done precisely and efficiently. Hydraulic hammers are one of the most critical pieces of equipment on the job site, capable of withstanding excessive abuse while still delivering outstanding performance.
However, over time and with regular heavy-duty use, hydraulic hammers can suffer from cracks and other significant damage, impacting your team's effectiveness and performance. With CB HYMAC hydraulic hammer rebuild and repair services, you can get your equipment back up and running.
As the leading Cat dealer and service professionals serving clients throughout Pennsylvania and West Virginia, we are your best source for Certified Rebuilds and comprehensive hydraulic hammer repair. We'll help you update and restore your machinery to the latest standards while avoiding the expense and hassle of purchasing new equipment.
Following strict quality standards and using genuine Cat replacement parts, along with our state-of-the-art test bench and hammer pit, we have the skill to perform the most complete hydraulic hammer rebuilds and repairs. We follow a precise process, including:
Inspection: Before beginning any work, our skilled technicians fully inspect the hydraulic hammer, identifying repair or rebuilding needs and developing the most effective plan of action. We'll completely disassemble the damaged hydraulic hammer and begin reconditioning the parts.
Component removal: Before repairs or rebuilding services begin, our team will separate the outer bracket from the main body, breaking the outer bracket into three sections: the front tools, back cap and the cylinder. By separating the hydraulic hammer into its separate components, our team can work efficiently and fully evaluate every piece. Once the front tools, back cap, and cylinder have been removed, the interior and exterior components of the hammer are disassembled further. We'll inspect internal passages and the cylinder for signs of contamination and buildup, cleaning these parts as needed.
Replacement part installation: After the cylinder has been completely cleaned and maintained, we'll add new genuine Cat seals, inspect all newly installed parts, and reassemble the body of the hydraulic hammer. To complete the rebuild or repair process, we'll apply a fresh coat of paint and provide a new serial number for ongoing maintenance and quality monitoring.
Final quality testing: Every hydraulic hammer rebuild and repair is thoroughly tested to meet all Cat cleanliness and performance standards. When your hydraulic hammer rebuild or repair project is complete, we return it to you with a 1-year/1,500-hour complete warranty.
ECONOMICAL HYDRAULIC HAMMER REBUILD OPTIONS
When your hydraulic hammer begins lagging in efficiency and durability, the Second-Life Rebuild program available at CB HYMAC is the most cost-effective and practical way to effectively restore your equipment to its pristine operational condition.
Our Cat factory-trained technicians perform thorough inspections to identify all issues and determine the most appropriate reconditioning or replacement parts needed to complete hydraulic hammer rebuilds. With our advanced Certified Rebuild Center and collection of high-tech, sophisticated rebuilding tools and equipment, we can deliver long-term performance with improved durability, reliability and efficiency.
All of our highly trained rebuild technicians follow the strictest Caterpillar requirements and guidelines. For every hydraulic hammer rebuild project, we incorporate the latest Cat engineering upgrades and features, so your equipment has the latest improvements and delivers like-new hydraulic hammers at only a fraction of the cost of buying new equipment.
CB HYMAC: The Right Solution for Your Hydraulic Hammer Repairs and Rebuilds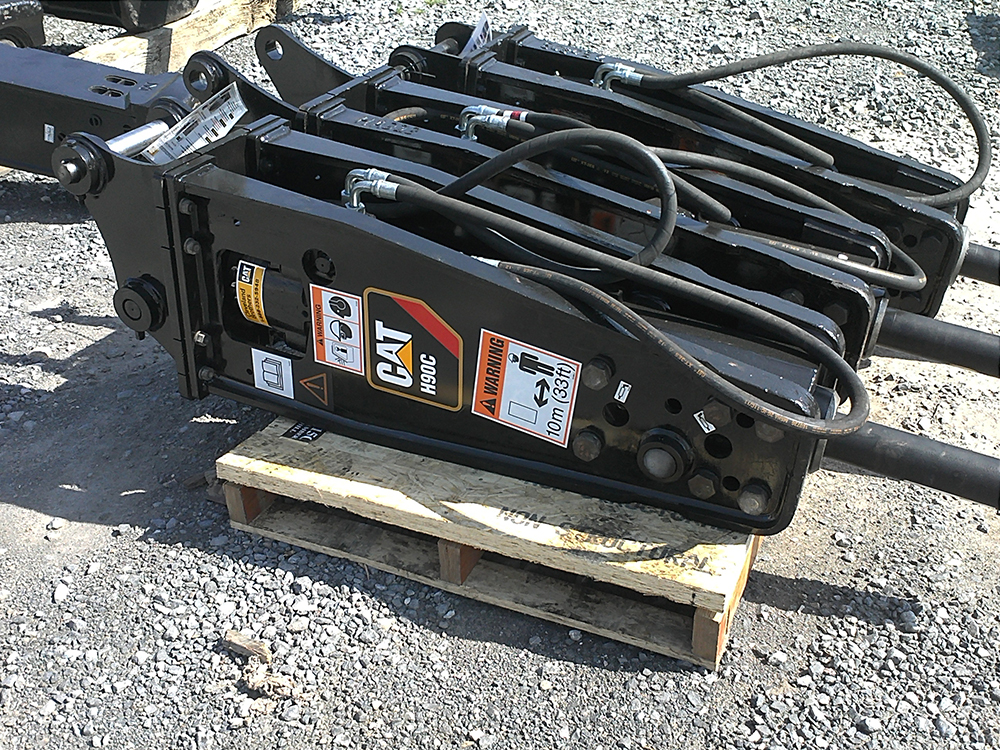 When it comes to increasing your productivity, decreasing the number of malfunctions you experience and doing it all at an affordable rate, CB HYMAC has the right solutions for your hydraulic hammer repair needs. As a five-star certified Cat Component Rebuild Center (CRC), we know Cat standards and products better than anyone else in our industry, and we use authentic Cat-brand replacement parts whenever possible.
Other benefits of choosing CB HYMAC include:
We'll find even the most inaccessible components quickly to replace damaged parts in your equipment.
If you call us needing a hydraulic hose repair, we will complete the process in 30 minutes or less— that means we build, certify, clean and cap in under a half hour, so you don't lose crucial company hours.
We electronically store every service record you have with us to avoid future breakdowns through trend recognition.
No more waiting until next week to get your equipment fixed and continue with your work. We offer exchange components to get your machine up and running faster so you can get back to work.
Schedule Your Hydraulic Hammer Repair or Rebuild Today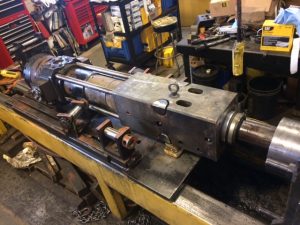 With exclusive access to up-to-date knowledge and information from Caterpillar bulletins and technical support, our professionals can make sure you're getting exactly the service you need to restore your hydraulic hammer quickly and affordably. With experience repairing and rebuilding for industries like mining, agriculture, government, logging, utilities and more, we can help you no matter what specific job you need the equipment for. Contact us to schedule your hydraulic hammer repair or rebuild so that you can get back to the work you do best.