Custom Fabrication Services for a Variety of Components and Machines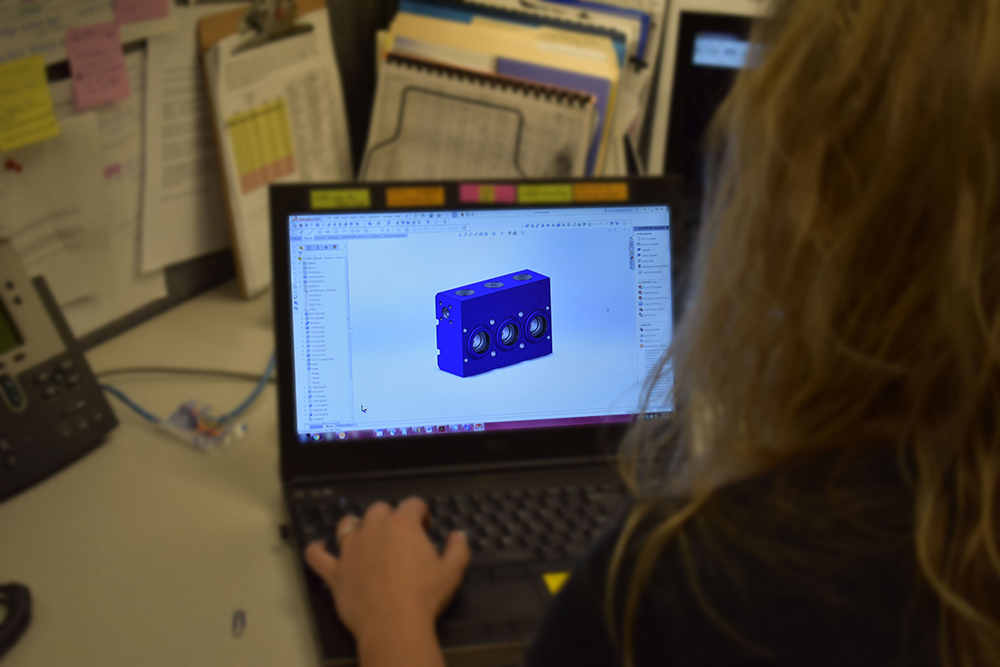 When the work you do is specific and requires accuracy, you need your equipment to fit exact specifications for you to reach your maximum output. CB HYMAC offers a variety of custom fabrication options for hydraulic hoses and fittings, metal components and more so that you can experience an overall boost in your productivity and profits.
As a division of Cleveland Brothers, your local Cat® dealership, we're very proud of our certification as a Cat Component Rebuild Center (CRC). We make it our mission to offer products and services in line with certified Caterpillar standards, which means that our custom fabrication will exceed your expectations every time. Our in-house engineers use industry leading CAD software to ensure accuracy to the last detail of any custom fabrication and pattern cutting processes. We can also custom fabricate cylinders and hydraulic hoses and fittings to make sure you have exactly the parts you need.
CUSTOM FABRICATION SERVICES PROVIDED BY OUR CAT SPECIALIZED SHOP
Cat heavy equipment and machinery is specially designed for optimal performance, and to work extra-hard so you don't have to. Every Cat machine is manufactured with many different components that work together to consistently deliver efficiency, optimal power and high performance. But when one of these pieces is experiencing an issue, you need qualified and dedicated technicians that specialize in repairing and rebuilding each component for streamlined results.
CB HYMAC uses advanced diagnostics, state-of-the-art techniques, and the latest welders, lathes, and testing equipment to quickly and accurately custom-fabricate hydraulic fittings and other parts, restoring your equipment to like-new condition. Our workshop can refurbish worn components according to their original specifications and provide mechanical design and reverse engineering.
The custom fabrication shop at CB HYMAC has the capacity and capability to build and modify equipment and parts to meet your specific operational needs. Our custom fabrication shop services include:
Hydraulic rebuilds: CB HYMAC rebuilds hydraulic parts and components in a fully climate-controlled facility meeting all Caterpillar and industry safety standards, including contamination control regulations. We specialize in all types of custom hydraulic fitting repairs, including pumps, motors, cylinders and valves.
Engine rebuilds and dyno testing: Rebuilding an engine is a complex process, but it's a great solution for extending the lifespan of aging equipment. Our technicians are fully trained and capable of restoring your equipment's engines. We also perform comprehensive dyno testing to ensure the rebuilt engine performs at full capacity to take on your most challenging projects.
Machine shop: Our machine shop is fully equipped to handle any welding or custom fabrication services you need, from hydraulic cylinders and fittings to rod and barrel fabrication.
Transmission rebuilds: When your machinery isn't performing as effectively as it once did, our Cat Component Rebuild Center can restore performance to your equipment and damaged or worn transmissions. We fully evaluate your machine's transmission and then perform precision dyno testing to properly adjust components as needed to ensure your transmission performs as smoothly and as dependably as the day it was new from the factory.
Component and system diagnostics: If you cannot determine the source of your equipment failure, trust CB HYMAC to perform comprehensive system diagnostics to determine the root of the issue. We provide complete failure analysis of parts and systems, then determine appropriate custom fabrication services to help you make the most practical, informed, and cost-effective decision to restore your equipment.
Why Should CB HYMAC Be Your Custom Fabrication Shop?
To ensure our custom fabrication and other services are current and high quality, we constantly access exclusive Caterpillar industry advice, including their service bulletins and technical support. You'll find that no one else in the business has the same knowledge of Cat equipment, and we use authentic Cat components anytime we can.

Our full-service custom fabrication shop includes advanced equipment and expert technicians to provide our clients with fast turnaround times and precise results for every project. We can even handle complex fabrication services that exceed the scope and capabilities of competing shops in the area.
Other benefits you'll enjoy when you partner with CB HYMAC for your custom fabrication are:
Versatility: While our expert technicians know Cat products well, we can service components from other leading equipment manufacturers with the same impressive results and standards for top-notch quality.
Speed: We understand that quick customer service and rapid delivery help to save you company hours and money. We can even complete hydraulic hose repairs in 30 minutes or less to save you time.
Dedication: We want to keep your machinery up and running for as long as possible. That's why we electronically store your service records and keep an eye on breakdown trends that could cause problems in the future.
Resourcefulness: We will quickly access and deliver even hard-to-find replacement components.
Convenience: No matter where you are in the region, we have convenient drop off locations so you can spend more time on your business.
Support: When you reach out to us, our experienced professionals will offer quality customer support by answering any questions you have about our custom fabrication and leading you in the right direction for your unique needs.
Contact Us to Schedule Your Unique Custom Fabrication Today
No matter what your specific equipment needs are, we'll find a way to make it happen. As the leading heavy equipment provider and servicer in the greater area, it's our goal to help our clients get the most value and performance out of their fleet with our full-service offerings and advanced custom fabrication shop.
Getting your components to us is easy, too. With Cleveland Brothers locations throughout Pennsylvania and West Virginia, we'll pick up your component from the location closest to you for easy transfer to our custom fabrication shop. The right custom fabrication for your business is just a phone call or a click away. Fill out our contact form now to ask questions, schedule your own custom fabrication or talk to one of our knowledgeable representatives about the right options for you.