Hydraulic Cylinder Manufacturing and Repair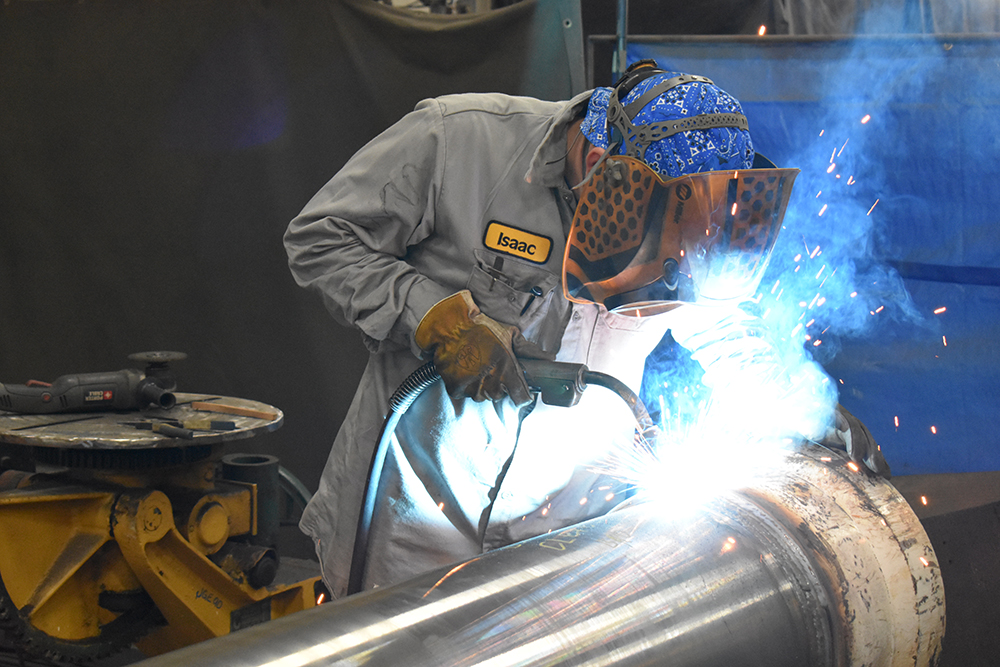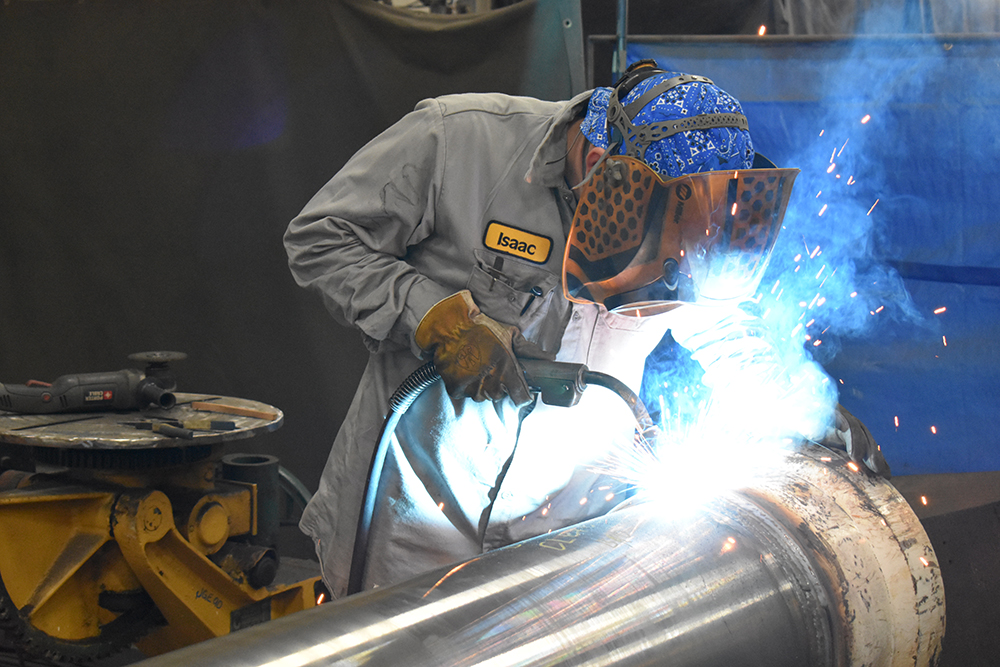 There's always a chance for things to go wrong on the job — parts break, equipment stops working, etc. — and you can't reach your production potential for as long as your equipment doesn't operate properly. CB HYMAC is a division of Cleveland Brothers, your local Cat® dealership, and we offer the expertise to give you options when something breaks down.
We understand just how important your ability to complete tasks on time is. We offer a variety of services and products, including hydraulic cylinder repair and replacement, to make sure your equipment works at full capacity so that you can, too.
The Specifics of Our Hydraulic Cylinder Repair Shops
We offer new cylinder design and manufacturing, but we can also rebuild, reseal, resize, re-rod, re-tube or re-chrome an existing cylinder to save you time and money. Though we do make new parts if you require it, instead of forcing you to buy an entirely new hydraulic cylinder, we make many options available to you. You can bring your damaged hydraulic cylinder to our shop and allow us to salvage any damaged tubes, rod, rod eyes, pistons or packing. Tubes with minor scratches can be honed and resealed.
Along with Cat components, our experienced professionals can offer quality servicing of parts from other Allied manufacturers. Our hydraulic cylinder repair tools include a 40-foot cylinder hone bench that works to restore cylinders up to 40 feet in length and up to 25 inches in diameter to their original condition. Our hydraulic cylinder test bench can test equipment up to 5,000 psi and torque-capable equipment up to 70,000 foot-pounds. Some other services we offer include:
Cylindrical Grinding with a 24″ dia x up to 120″ length, 2,400-pound working weight
Chrome plating up to 24 inches in diameter and 38 feet.
We have exchange cylinders available so you don't have to replace equipment just for a new cylinder.
Our outdoor Platform Drill Cylinder Test Bench gives you additional testing capabilities.
Hydraulic Cylinder Repairs For Mining Industry
The mining industry is a tough environment that requires safe, durable and reliable equipment to efficiently extract valuable minerals and other materials from the surface of the earth. Whether you're operating a mining operation vital to the production of gold, copper, zinc, iron, or coal, you need high-performance hydraulic equipment. As you already know, it can be a major issue if your hydraulic cylinders unexpectedly break down or aren't as effective as they once were.
At CB HYMAC, we understand the importance of having dependable, heavy-duty hydraulic cylinders to facilitate the smooth operations of your work site, which is why we provide hydraulic cylinder repair and preventive maintenance solutions for companies in the mining industry. We provide hydraulic cylinder services on the following:
Jacking Cylinders
Stringer Cylinders
Lifting Cylinders
Luffing Cylinders
When it comes to keeping your mining equipment in top operational condition, turn to our experienced, knowledgeable staff for the most complete and effective repair solutions.
Hydraulic Repairs for the Logging Industry
Forestry and logging operations need massive amounts of power to create necessary daily items like paper products, plywood, and lumber. For this vital production, forestry equipment relies on hydraulic systems to produce maximum power. When hydraulic systems and cylinders show signs of wear and tear, or are no longer producing optimal functionality, you may find that your entire operation comes to a grinding and costly halt. If you start to notice your hydraulic cylinders are leaking, have buckled piston rods, unsecured mountings, or damaged parts, reach out to the experts at CB HYMAC to help you inspect your equipment and develop effective hydraulic cylinder repair solution to restore your functionality.
Our hydraulic repair parts and systems are specifically designed to effortlessly accommodate the specific demands and requirements of any forestry or logging application. We can expertly and efficiently repair a wide range of different logging hydraulic cylinder systems including those for:
Track Feller Bunchers
Skidders
Material Handling Loaders
Track Harvesters
Drive-to-Tree Feller Bunchers
Commercial Agriculture Hydraulics Repair
Every day we rely on commercial agriculture applications to harvest, transport, and store crops in addition to managing livestock production and grazing. Local agricultural industries need access to heavy-duty and dependable hydraulic systems to streamline production, stay on schedule, and maximize efficiency. When issues with your hydraulic system arises and your cylinders aren't performing properly, you need a trusted partner to help you manage these problems and develop effective repair options to quickly restore your operations — that's where the team at CB HYMAC comes in. CB HYMAC provides complete hydraulic cylinder repair support for a breadth of agricultural equipment including:
Tractors
Skid Steers
Mini Excavators
Wheel Loaders
Utility Vehicles
We provide comprehensive hydraulic cylinder repair and maintenance solutions for agriculture operations throughout Pennsylvania and northern West Virginia. Our team of highly skilled and experienced technicians can routinely inspect your agricultural equipment and quickly identify any potential repair issues before they become larger issues later. To minimize productivity interruptions and delays, our experts can even respond to after hour repair requests to promptly restore your operations and minimize disruptions.
The Benefits of a CB HYMAC Hydraulic Cylinder Repair Shop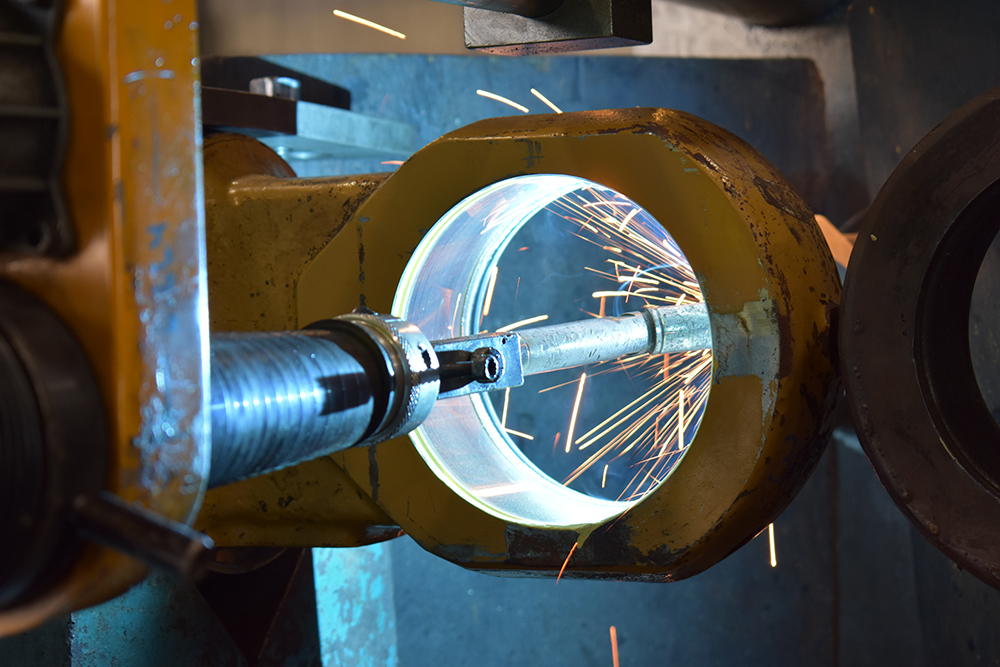 We provide the following benefits when you work with us:
Quick:Fast delivery times and 30-minute-or-less hydraulic hose rebuild or repair
Effective:Genuine Cat components applied when possible and hard-to-find replacement partslocated quickly and conveniently
Thorough:Easy data tracking through electronic service record storage for pattern predictions and limited future breakdowns
Available: Experienced technicians on-hand 24 hours a day to provide onsite field service, including diagnostics and repairs
Schedule Your Hydraulic Cylinder Repair for Increased Productivity
With experience in industries like government, mining, manufacturing, logging, utilities, construction and more, we can make hydraulic cylinder repair tools available to you no matter your exact line of work. Call us today or fill out a contact form online to schedule your hydraulic cylinder design — so you can keep being productive without a hitch.