Industrial Hydraulic Presses Available at CB HYMAC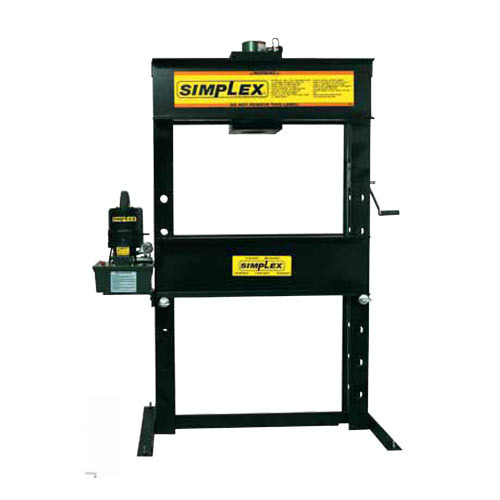 When you need powerful shop presses to complete your operations, CB HYMAC offers a wide variety of custom hydraulic shop presses from Simplex and Enerpac. Choose from a range capacity of 10 to 200 tons with customizable options for pressing types, cylinder strokes, and manual or power pumps.
Simplex H-frame hydraulic presses features double pinned and welded construction for high-quality strength and safety.
Download the Enerpac Hydraulic Press Brochure
Download the Simplex Hydraulic Press Brochure
Hydraulic H-Frame Bench Press
For smaller production jobs, Simplex offers a bench press that is easy-to-use with adjustable work heads and beds for maximum flexibility. The compact sized hydraulic bench press offers up to 15 ton capacity.
Hydraulic H-Frame Floor Press
The Simplix Hydraulic H-Frame Press is ideal for professional use in assembly, fabrication, quality control, and much more. These powerful H-frames can handle up to 200 tons and are built to last. With an adjustable cylinder head and ideal work height, the Simplex H-Frame is perfectly engineered for precision work.
Custom Hydraulic Presses
Every operation is unique. If you can't find the right hydraulic press that meets your specifications, ask about custom hydraulic presses. Our expert hydraulic representatives will work with you to determine the best options to meet your operational requirements.
Trust CB HYMAC to Help You Find the Right Press
Rely on our industry knowledge and engineering experts to help you find the best hydraulic press to meet your operational requirements. Contact CB HYMAC at 866-627-2737 or send us a message!