Proper Hose Servicing for Rubber Hydraulic Hoses
When every individual part of your machinery needs high-capacity functioning to keep your business running smoothly, you need a repair service you can trust to keep your equipment components in top condition. Rubber hydraulic hoses are an integral part of your equipment, and CB HYMAC can ensure quick and quality hydraulic hose servicing at a reasonable price to maximize your business's productivity and profitability.
Leading Experts in Hydraulic Hose Assembly and Servicing
As a division of Cleveland Brothers, your local Cat® dealership, it's important to us that our work consistently meets Cat standards. That includes the amount of time we spend on your repairs, which is why we've perfected the craft of servicing your hydraulic hoses in 30 minutes or less. We build, certify, clean and cap within that time allotment, so you can get back to work faster.
We pride ourselves on using only the best when it comes to hydraulic hoses. That means we turn to Cat and Anchor hose replacement parts – the industry's leading hose manufacturers for industrial rubber hydraulic hoses and other types of high-quality hydraulic hose parts and components.
We make sure these components are available to you the second you need them. We use top-notch hydraulic hose caps and plugs so that you can rely on your equipment operating at full capacity for longer. At CB HYMAC, we have successfully supplied our services across a number of different industries, including:
Utilities
Government
Agriculture
Logging
Industrial
Manufacturing
Railroad
Oil and Gas
No matter what work you're doing, we know it's critical for your rubber hydraulic hoses to stay clean and functional. As an official Cat Component Rebuild Center (CRC), we apply exclusive knowledge from Caterpillar® service bulletins and support to keep our products and processes cutting-edge and up-to-date.
SPEEDY AND CONVENIENT HYDRAULIC HOSE SERVICES ONLY AT CB HYMAC
Hydraulic hoses are essential to the efficiency and performance of your equipment. When your hoses fail, you don't have time to sit around and wait at a hose shop to find the right part for your machines — you need fast and reliable hose repair and replacement to reduce downtime and get your Cat equipment back up and running.
CB HYMAC understands that you need hydraulic hose assembly and installation quickly and at a competitive rate. That's why we provide immediate, while-you-wait hydraulic hose repair services, performed by our expert technicians.
Our team works efficiently to troubleshoot and perform hydraulic hose and coupling servicing with our superior Cat hose products. With our hydraulic hose services, you can expect:
Repair and replacement for all hydraulic hose sizes and for all equipment types and brands.
Supply and installation of low-, medium-, and high-pressure hoses with either reusable or permanent crimp couplings.
Load and pressure testing services.
Fluid analysis and diagnostic testing for all hydraulic systems.
Foam core plug cleaning and ends capped to prevent contaminant exposure.
DEPENDABLE HYDRAULIC HOSE REPAIR SOLUTIONS
At CB HYMAC, we also provide efficient and reliable hose repairs in addition to our hydraulic hose replacement services.
We stay up-to-date on the latest hydraulic hose repair solutions and techniques to guarantee effective services for long-term performance. Our detailed repair process includes a thorough inspection of your hydraulic hoses, including inserting a pneumatic foam project to remove contaminant buildup from inside the hose. Trained technicians then measure the coupling crimps to verify the appropriate diameter.
To complete the repair, our experts will cap the hose ends to ensure the hydraulic fluids stay free of contaminants. While this process seems involved, the experts at CB HYMAC can complete a hydraulic hose repair in only 30 minutes or less.
WHY CAT HOSE PRODUCTS ARE THE BEST SOLUTION FOR YOUR FLEET
Hydraulic hoses are sensitive parts. When dirt, dust, and other contaminants are introduced, this can greatly diminish the performance of these components.
When your hoses have diminished in reliability, turn to Cat hydraulic hose replacements. Cat hydraulic hoses define reliable and durable performance. Every Cat hose is manufactured and tested according to the strictest industry standards. Cat hoses exceed abrasion resistance standards for superior performance and longevity, resulting in fewer hose changeouts and less equipment downtime.
CB HYMAC provides hoses that accommodate all pressure levels, so we can keep your entire fleet running longer and better with our exceptional line of parts and built-to-fit hydraulic hose services.
Why Choose CB HYMAC for Hydraulic Hose Assembly and Servicing?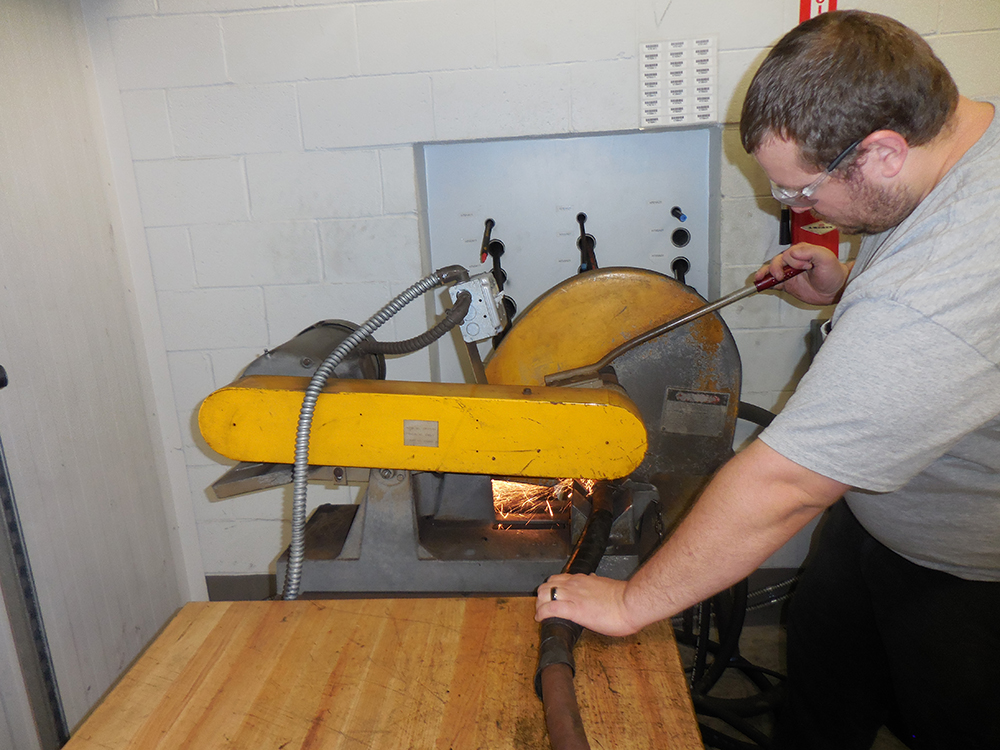 We know Cat-made equipment and parts better than any other company, but there are many other benefits to choosing CB HYMAC for your hose servicing needs:
Our conveniently-located Pennsylvania and Northern West Virginia repair shops give you several available places to take your rubber hydraulic hoses for servicing.
We build, certify, clean and cap hydraulic hoses within 30 minutes or less. Guaranteed!
With stored, detailed records of your service requests in our electronic system, we have the capability to notice trends early. This allows us to anticipate and avoid potential breakdowns in the future.
You'll find that we quickly locate even the most difficult-to-find replacement parts you need for your equipment.
Overall, we'll save you money when you choose our quality hydraulic hose repairs and other proper care instead of buying entirely new equipment each time an issue arises.
Contact CB HYMAC for All Things Related to Rubber Hydraulic Hoses
When you need fast, reliable hydraulic hose services throughout Pennsylvania and parts of West Virginia, look no further than the experts at CB HYMAC. We understand how crucial it is to have functional and reliable equipment, which is why we're committed to reducing site downtime and providing peace of mind that your hydraulic system is safe, durable and efficient.
We've made a lot of promises about our hydraulic hose cleaning and repairs, and we can apply them to Cat components as well as those from other equipment and machinery manufacturers. Don't take our word for it, though. Contact us to speak to one of our knowledgeable representatives, schedule your hydraulic hose services and see for yourself.