CB HYMAC Component Rebuild Center and Hydraulic Shop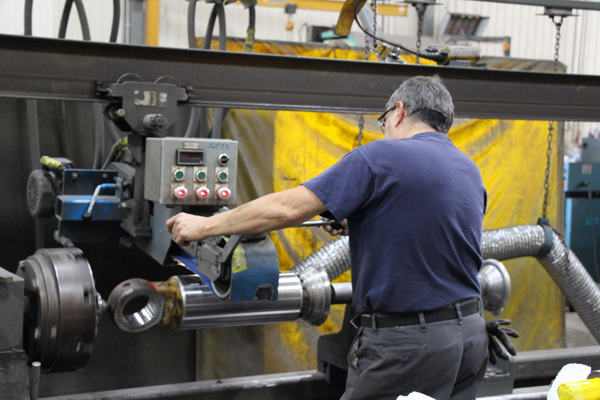 When you have big jobs to do, you need to put your best foot forward. That means nothing less than putting your best machinery forward, too. At CB HYMAC, your local full-service component rebuild center and hydraulic shop, you'll find all the services you need to keep your equipment working at its best. From hydraulic, machining and fabrication to welding, repair and resurfacing, we offer a wide variety of services to suit your precise requirements. More services we offer include:
Chroming and polishing: Chrome platings and regular polishings work to help protect your equipment even in the most demanding worksite conditions. Chrome platings applied to parts like hydraulic pistons, hydraulic cylinders, and other equipment provide durable, lasting protection against corrosion and rust buildup and other damage. We can rechrome brass, stainless steel, and copper as well as refinish irregular surfaces and shapes like holes, bores and tight spaces. With exceptional chroming capabilities that can cover up to 38 horizontal feet and 10 vertical feet, we resurface to OEM specifications.
Component rebuilds: To keep your work affordable, we can give your old equipment the functionality boost it needs. A precisely executed machine rebuild restores your heavy equipment to like-new condition according to the strictest Cat standards to exceed your performance expectations.
Fluid end manufacturing: Oil and fluid analysis from CB HYMAC was created to help machine owners preserve the quality of their equipment and lower the cost of operating and maintaining their machinery. Hydraulic fluids, coolant, fuel, and oil can be contaminated over time with regular equipment use, and fluid testing will determine contamination and corrosion levels. We will then fix, rebuild, or design new fluid ends for your equipment to achieve or surpass even its original specifications.
Power ends rebuilds: A much more affordable approach to solving the problem, we can repair damaged power ends to keep you from having to purchase new ones. With our state-of-the-art heavy equipment rebuild center and advanced technology and tools, we can perform complete equipment rebuilds of engines and heavy-duty machinery like power frac pumps, winches and hammers. By relying on our skilled technicians for your power end rebuilds, we can exceed original manufacturing specs and deliver outstanding performance at a fraction of the cost.
Condition monitoring: Receive expert recommendations and access to real-time information detailing what's happening inside your equipment. Our condition monitoring services collect data on fluid analysis, inspection results, and more to provide you with a complete image of the health and condition of your fleet. This information allows you to make informed decisions on proper maintenance and repair needs so you can reduce downtime and improve the performance and longevity of your equipment.
Hydraulics: Proper hydraulics is the lifeblood of your equipment. CB HYMAC offers a range of hydraulic solutions to ensure your machinery's essential hydraulic systems and parts are functioning properly and smoothly. Along with cylinder manufacturing, hammer repairs, hose services, and hydraulic fluid testing, our hydraulic shop also offers complete hydraulic component rebuilds designed to improve the performance and lifespan of your equipment at an affordable rate.
Welding: CB HYMAC offers welding and fabrication services — like blade and roller frame repairs, gearbox rebuilds, asphalt roller re-shelling, and pump and motor base rebuilds — for all types of hydraulic equipment and heavy machinery. Our welding solutions accommodate a range of needs, including an in-house hydraulic shop and onsite repairs.
Hose shop: The hydraulic shop at CB HYMAC offers complete services, including hose repair and replacements. Keeping these components maintained and clean is crucial to the health, efficiency, and reliability of your equipment, and our world-class hydraulic shop uses genuine Cat replacement parts and repair tools to ensure you get the cleanest hoses possible. With our skilled technicians and stocked hydraulic shop, we can repair or replace hydraulic hoses in just 30 minutes or less.
TIMELY PREVENTIVE EQUIPMENT MAINTENANCE
Preventive maintenance is a crucial cornerstone for any equipment management plan. With regularly scheduled equipment and machinery maintenance, you can identify repair issues early to reduce downtime and schedule proactive repairs, boost fuel efficiency, extend the longevity of crucial parts and components, and estimate and track wear on crucial components.
CB HYMAC is fully equipped to offer comprehensive preventive maintenance for a wide range of heavy-duty equipment, including generators, air compressors, switchgear, temperature control systems and more. Our rebuild center handles a variety of preventive maintenance services, including:
Fluid sampling and analysis
Thermography
Vibration analysis
Remote monitoring
Electrical repairs and maintenance
Fuel polishing services
At CB HYMAC, we can perform any type of preventive maintenance services in a timely manner and work around your schedule to minimize disruption and downtime. All of our maintenance services are performed according to all manufacturer guidelines and utilize the most advanced tools and equipment to ensure long-term performance, durability and efficiency.
CB HYMAC REBUILDS YOUR EQUIPMENT TO LIKE-NEW CONDITION
The best way to avoid prematurely purchasing new equipment is by having CB HYMAC rebuild your existing equipment and hydraulics.
With our expansive, advanced, climate-controlled hydraulic component rebuild center and our skilled technicians, we can perform a complete rebuild of your machinery and its crucial parts to restore your equipment to peak performance. With our high-tech rebuild center and sophisticated tools, we can deliver long-term value and promote better fleet efficiency, durability and reliability.
Our Cat Certified Rebuild programs adhere to the strictest Caterpillar standards and incorporate the latest Cat technology and engineering upgrades, providing you with the newest advancements at a fraction of the cost of buying new.
ADVANCED SERVICE FACILITIES
With a large-scale component rebuild shop completely dedicated to heavy equipment and hydraulic services and repair, CB HYMAC is equipped to handle any type of service need, repair or maintenance project.
Our Certified Cat Rebuild shop is equipped with the latest machines and tools, allowing our highly trained and knowledgable technicians to perform any type of repair or maintenance service efficiently and accurately to guarantee our clients the best results. Our service facility is also located near Cat's York Distribution center, allowing us greater access to necessary tools and parts for optimal service flexibility and support.
We also have over 60 trained professionals and fully loaded service trucks that are constantly ready to assist you with onsite or offsite services. With CB HYMAC as your local Cat service provider, you get efficient and effective solutions every time, designed to keep your heavy equipment and hydraulics running at top performance.
AFTER-HOURS SUPPORT
Even the most prepared worksites and companies can't plan for all unexpected breakdowns or equipment repairs.
No matter what type of issue you're experiencing, you can trust the parts and service team at CB HYMAC to respond to your repair or maintenance needs promptly with our emergency services. Our trained and certified Cat technicians respond quickly to all after-hours support calls and arrive with quality Cat replacement parts to begin immediately identifying your issues and developing effective repair or maintenance plans to get your equipment back up and running quickly.
Why Choose CB HYMAC to Handle your Hydraulic Shop and Component Rebuild Needs?
A division of Cleveland Brothers, the region's authorized Cat® dealership, we never settle for less than services and component rebuilds certified to Cat standards. With experience working across several industries such as manufacturing, oil and gas, construction, agriculture, mining, logging, government and more, our highly qualified and experienced technicians will exceed your customer service expectations and help you get the job done no matter what industry your business is in.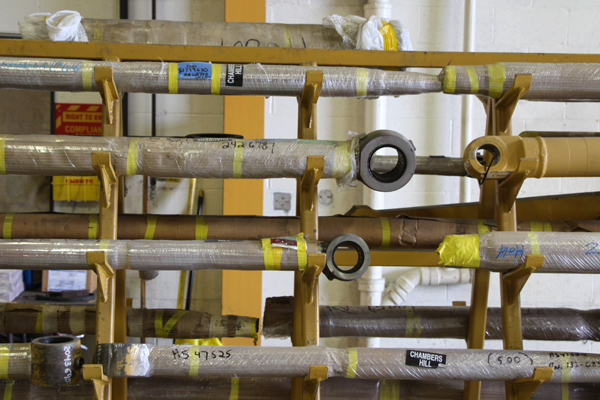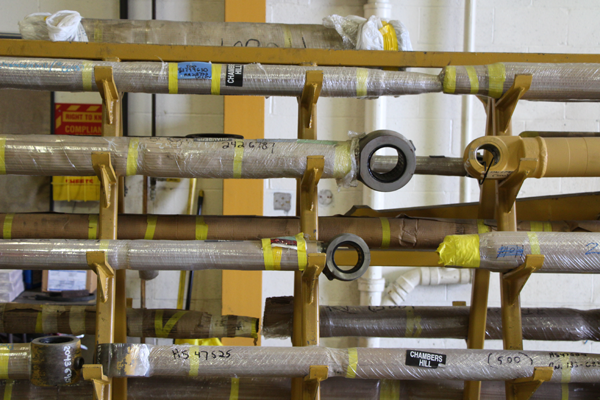 Additional reasons to choose CB HYMAC as your component rebuild center and hydraulic shop include:
Experienced engineers and factory-trained technicians available to perform diagnostics and repairs
Ability to locate even difficult-to-find replacement parts and use genuine Cat components whenever possible
Exclusive access to technical support and service bulletins from Caterpillar® technical support to keep us up-to-date on technology and standards
Capability to complete repairs on damaged hydraulic hoses in 30 minutes or less
Electronically stored service records to keep track of common areas of concern, allowing us to better predict and handle future breakdowns
In addition to being an authorized repair center for HYCO International and Black Horse, CB HYMAC is a certified Cat Component Rebuild Center (CRC). We know Cat equipment better than any other company in the business, and we use our experience to provide top-notch services.
Contact Us for Your Hydraulic Shop and Component Rebuild Center Needs
With the expertise to handle hydraulic components built by Caterpillar and other leading equipment manufacturers, our skilled professionals can serve you from any one of our hydraulic shop service stations conveniently located across Pennsylvania and Northern West Virginia. No matter what affordable service you need to improve your equipment and give you a leg up in your industry, CB HYMAC is here to provide it. Contact us to receive more information or to schedule quick, quality repairs for your most crucial hydraulic system components and equipment.