Hydraulic Services and Repairs at CB HYMAC
When you heavily rely on your equipment to get high-impact work done, it's crucial to have a reliable hydraulic repair service near you to make sure your tools don't hold you back. At CB HYMAC, we have experience providing hydraulic services to industries like mining, government, utilities, railroad, oil and gas, construction and more. We can offer you superior support to make sure you get the job done right.
Specific Hydraulic Services Offered at CB HYMAC
At CB HYMAC, we offer a detailed inspection of every component of your hydraulic equipment, and our well-trained and skilled technicians have experience remanufacturing over 2,000 varied types of cylinders, valves and pumps. We also provide standard hydraulic and emulsion fluid testing up to 10,000 psi, giving you the opportunity to take advantage of routine fluid analysis to avoid component breakdown.
As a division of Cleveland Brothers, your nearby and authorized Cat® dealership, we have the know-how to work with hydraulic components engineered by Caterpillar and other leading equipment manufacturers. We use it to implement the hydraulic services you need most, including compression and load testing, electrical component testing and repair, pump and motor manufacturing and repair, and valve reconditioning. Confident in our certified Cat-standard work,we offer a warranty for all repaired components.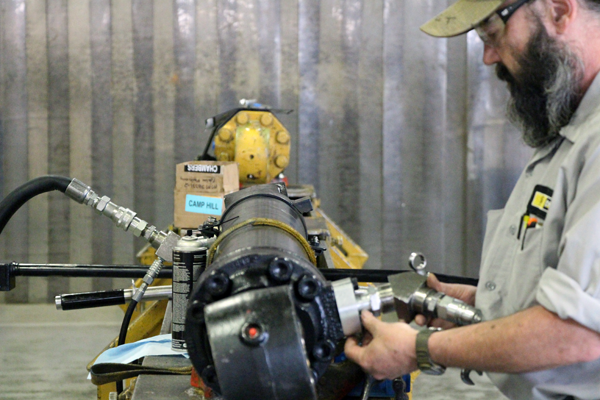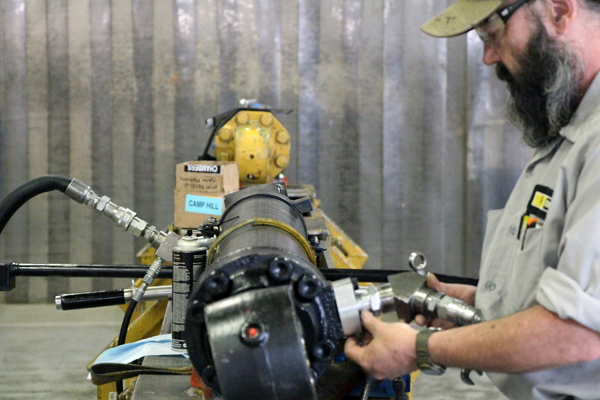 Other hydraulic services offered through our conveniently-located repair centers in Pennsylvania and Northern West Virginia include:
Cylinder manufacturing: The hydraulic service and manufacturing we offer creates and maintains exactly the components most important to your equipment.
Hammer repairs and rebuilds: Our hammer pit and patented hammer test bench are top-of-the-line, making repair time quick through exceptional visual inspection and cutting-edge analysis capabilities. We service all makes and sizes.
Hoses servicing: We understand that every second counts, so in 30 minutes or less, we will build, certify, clean and cap your hoses.
Benefits of Choosing CB HYMAC for Your Hydraulic Service and Repair Needs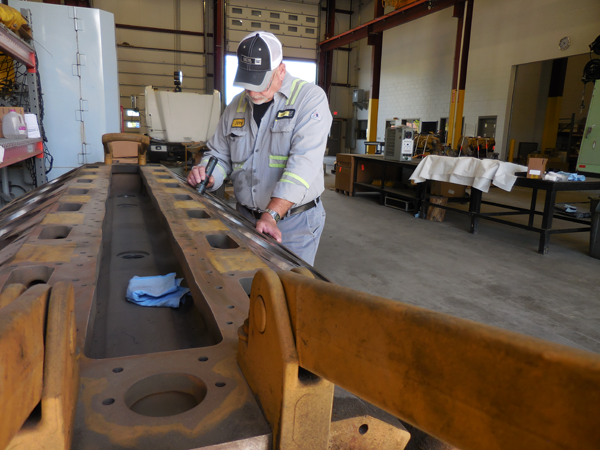 CB HYMAC is a hydraulic service company officially recognized as a Cat Component Rebuild Center (CRC). With a superior knowledge of Cat equipment, we do what it takes to ensure that whenever applicable, our components are genuine Cat parts. You'll notice our ability to quickly locate even hard-to-find replacement components, and our unique access to information, service bulletins and technical support from Caterpillar make it easy for us to stay ahead of the highest industry standards.
More benefits of choosing CB HYMAC for your hydraulic service and repair needs include:
Electronically stored service records to become aware of trends in your requirements and avoid future malfunctions
Overall saved money through hydraulic services and repairs as opposed to replacing equipment
Guaranteed pricing and turnaround time
Take Advantage of Our Hydraulic Services, Manufacturing and Repairs
When it comes to quality hydraulic manufacturing, services and repairs at an affordable rate, CB HYMAC takes care of your equipment, so you can get back to doing what you do best. Contact us today to learn more about our affordable hydraulic services and to take advantage of our manufacturing and repairs.