Frac Power End Services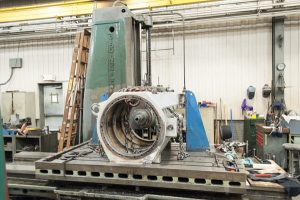 To be competitive in the oil and gas industry, it's essential to control operating expenses and lower per-barrel production costs. Pump power ends are critical components put to the test under the most demanding hydraulic fracturing applications and environments. If you're focused on maximizing uptime and extending the service life of your equipment, CB HYMAC offers a broad range of frac power end service solutions to meet your unique requirements.
Power Ends Maintenance, Repairs and Rebuilds
Hydraulic frac power ends operate under high pressure in non-stop operations, causing extreme stress and accelerated wear and tear. CB HYMAC offers full-service preventive maintenance as your first line of defense against equipment failures resulting in costly repairs and loss of productivity. From detailed inspections covering power end bearings, frames, crankshafts, valves and other components to regularly scheduled services performed by skilled technicians, we provide everything you need to get the most out of your machines.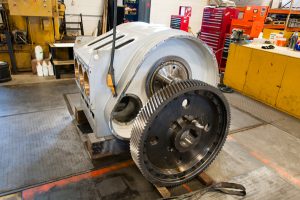 When you're having an issue with your power ends, CB HYMAC offers cost-effective and reliable solutions for returning fracturing pumps to peak operating condition. We specialize in repairing and restoring power ends to meet or exceed their original manufacturer specifications. Our power end rebuild services bring damaged frac pumps back to life at a fraction of the cost of buying a new component.
When you choose us as your hydraulic fracturing equipment repair and rebuild center, you benefit from:
Fast turnaround times on a wide variety of hydraulic repair services
Convenient services performed at our central location or in the field
Factory-trained technicians and experienced engineers ready to work on your project
Ability to service all different makes and models of pump power ends
Why CB HYMAC for Frac Power End Services?
As a division of Cleveland Brothers, the authorized Cat® dealer for the region, CB HYMAC offers world-class product knowledge and technical expertise. Our experienced team utilizes state-of-the-art tools and technologies to provide economical solutions to your most complex problems.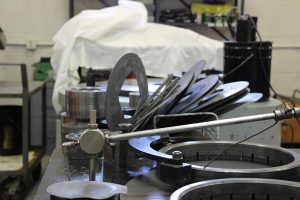 In addition to servicing pump power ends, we also work on all different models of Cat and Allied manufactured hydraulic fracturing equipment. From fluid analysis and hose shop to crankshaft rebuilds, winch repair, rebuilds and testing and a variety of other services, we strive to be a one-stop shop for everything you require.
Additional advantages of partnering with us include:
Use of genuine Cat parts whenever applicable on repairs and rebuilds
Large selection of replacement parts and ability to find rare items
Hydraulic hose repairs expertly completed in 30 minutes or less
Electronically stored records to spot trends that indicate potential failures before they occur
Component repairs and rebuilds meeting Cat Certified Rebuild quality standards
Exclusive access to Cat technical support and service bulletins
Get in Touch to Schedule Your Hydraulic Frac Power Ends Services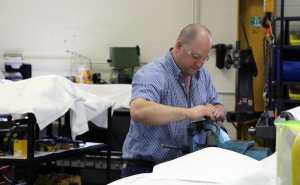 CB HYMAC has the expertise and capabilities to help keep your fracturing operation moving in the right direction. Contact us online or give us a call to speak with a knowledgeable representative and schedule your power end services today.