Laser Clad Welding and Other Welding Services
When it comes to the equipment you need to get your work done, we know that precision can make the difference between success and failure. At CB HYMAC, we offer laser clad welding held up to cutting-edge standards so that we can meet every requirement you bring to us. Your work can only be as accurate as your machinery allows, and we're here to raise that standard.
CB HYMAC is a division of Cleveland Brothers, the Cat® dealership in your local area. We take quality seriously and only offer repairs and rebuilds that are certified to Cat manufacture standards. We know that money saved means a better business for you, so we offer laser clad welding. Instead of purchasing brand new equipment or components, you can request our laser cladding services and bring your old machinery back to full functionality. We use high-quality laser cladding to reduce wear and corrosion on your components, ultimately extending their life and work capacity.
Our laser clad welding capabilities make many options available, including component salvaging to save you money. As a certified Cat Component Rebuild Center (CRC), it's important to us that we stay up-to-date in our industry. To do so, we take regular advantage of our exclusive access to service bulletins and technical support from Caterpillar®.
The Details of Our Welding Services and Equipment
Our in-house engineers will accurately design and process materials that perfectly match your specifications. With our laser clad welding, we use complete laser and robotic integration as well as dual Computer Numerical Controlled (CNC) programmability for that type of control. Our 11-axis robotic system and twin rotary positioning stations mean we can weld to extreme detail for the precise requirements of your unique machinery.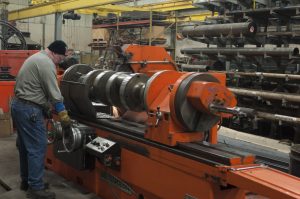 Our goal is to bring your components back to exact tolerances and specifications using our precision welding and machining. Depending on your requirements and the condition of your equipment, your request might require different types of welding. With CB HYMAC, you'll have many options available to you. The welding processes we perform are:
Stick welding
Tungsten inert gas welding
Metal inert gas welding
Submerged arc welding
Thermal spray welding (hot and cold flame spray)
Why Choose CB HYMAC for Your Laser Clad Welding?
When you pair with CB HYMAC for your laser cladding services or other machine shop needs, you'll enjoy:
Electronically archived service records to eradicate potential future breakdowns
Experience engineers and machinist ready to handle equipment diagnostics and repairs
Hydraulic hose repairs completed in a half hour or less
Authentic Cat parts used whenever possible
Quickly-sourced replacement parts even when hard-to-find
Contact Us Today About Our Laser Cladding Services
Our top-of-the-line laser cladding services can help your equipment meet required specifications, increasing your overall productivity and profitability. Our experienced representatives will be happy to lend support and answer questions when you get in touch. Contact us now to learn more or schedule your laser clad welding.