CB HYMAC: Your Hydraulic Pump and Motor Rebuilders
With important work to do and limited resources, you can't waste time and money on broken hydraulic pumps. That's why the experts at CB HYMAC work tirelessly to provide you with affordable, around-the-clock hydraulic repair to a number of different products.
3 Categories of Hydraulic Products
Thanks to modern technology, you can save on operational expenses and reduce downtime when you opt to repair your hydraulic component rather than replace it. However, repairing units involves more than just cleaning, flushing, regrinding, and reassembling the parts. Each hydraulic component is different and requires a unique approach for an effective result.
Hydraulic systems can be split into three different categories that require specialized repair approaches:
Dynamic Products: A dynamic product is one that needs continuous functionality like a hydraulic pump. Because hydraulic pumps need to run non-stop — even at idle speed — it's more common for its components to experience wear and tear, especially in the mating parts. These often need to be replaced or repaired more often than other hydraulic equipment. The lifespan of a dynamic product like a hydraulic pump and its components depends on its duty cycle, design, and typical application.
Intermittent Dynamic: The opposite of a dynamic product, an intermittent dynamic unit is not required to constantly run in the system. The most common examples of an intermittent product include hydraulic motors, direction valves, and servo proportional valves. When not in use, these intermittent dynamic products are lowly idling or not operational. Intermittent dynamic units — due to their lower functionality requirements — do not wear and break as quickly as dynamic products.
Static Hydraulic: Pressure, flow, sequence, and check valves are the most common examples of a static hydraulic component. These items have internal functions that work in an open-and-close function which has little operational wear and tear and has a longer lifespan than both intermittent dynamic and dynamic products.
Repair, Rebuild or Remanufacture?
When you have a hydraulic product that unexpectedly breaks, you have to determine whether repairing, rebuilding, or remanufacturing is the most practical and economical solution for the best short and long-term results and equipment performance. To decide which approach is best for your situation, it's best to understand the definition and expectations associated with each approach.
Repairing: With repairs, a technician is simply attempting to restore the condition of an old or failed part so it performs close to its original version. The most effective repairs are performed on pumps, motors, valves, and controls. For other equipment, repairs will likely not restore full, peak functionality.
Rebuilding: During a rebuilding process, damaged, inefficient parts are identified. From there, the entire component is fully dismantled then put back together with new or remanufactured parts. Once a hydraulic component has been rebuilt, it undergoes a thorough testing process and meets the specific requirements of newly built equipment. Hydraulic pumps and motors are ideal candidates for rebuilding procedures.
Remanufacturing: The remanufacturing process is divided into two different processes — manufacturing the existing core or reverse engineering. When working with the existing core, original parts are reworked to attempt restoring them to their original condition, then rebuilt on to the core. Improved, or reverse engineering, components are new and rebuilding components based on the dimensions of the original part.
Hydraulic Pump Repair Parts and Rebuilds: The Details
CB HYMAC is a division of Cleveland Brothers, your local certified Cat® dealership. This means we can provide a number of quality services like hydraulic pump repairs and rebuilds certified to official Cat standards. We have a better grasp of Cat equipment and how it works than anyone else in the business. This grants us the capability to provide hydraulic pump rebuilds for both Caterpillar® pumps and those built by other leading Allied manufacturers.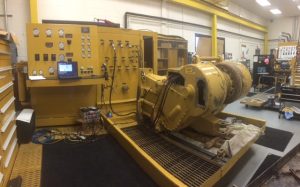 We offer a variety of quality rebuilds, including:
Component rebuilds: Instead of repurchasing equipment, save money by revamping the tools and machinery you already own.
Power end rebuilds: Much more affordable than purchasing new power ends, we can help you bring damaged ones new, top-notch functionality.
Crankshaft rebuilds: To make your crankshaft reach its exact original tolerances and specifications, we use precision machining and welding.
Hammer rebuilds: To decrease repair time, we use a state-of-the-art hammer pit and a patented hammer test bench for a more thorough visual inspection and above-average testing performance.
Winch rebuilds (repairs and testing also available): Regardless of make or model, we're fully-equipped to handle your heavy-duty winches.
CB HYMAC is officially recognized as a Cat Component Rebuild Center (CRC), and we use authentic Cat parts whenever applicable. We have no trouble quickly sourcing hard-to-find replacements for your equipment when a part wears out or stops working. Because we understand how much even a little downtime can affect your business, we have perfected a repair speed of 30 minutes or less to build, certify, clean and cap your hoses. We offer power lapping and power honing, and our 400 horsepower hydraulic pump test bench can reach 2,500 RPM or a 200-gallon flow.
Why Choose CB HYMAC for Your Hydraulic Pump Repair Needs?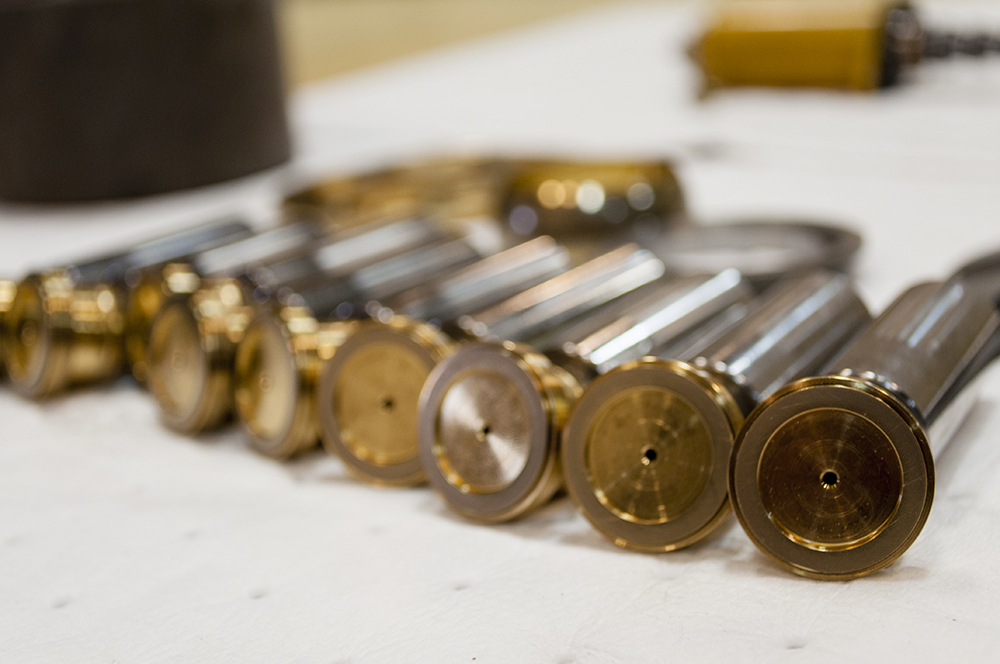 Our highly skilled and factory-trained professionals are just one of many reasons you should choose CB HYMAC for your hydraulic pump repair, hydraulic motor repair, parts, and rebuilds. Here are a few more:
Work is completed in accordance with stringent contamination control practices and standards, including hydraulic pump rebuilds.
We maintain all of your electronic service records, which makes it simple to recognize breakdown patterns so that we can pinpoint and eliminate future areas of concern.
We utilize exclusive Caterpillar service bulletins and technical support, keeping our technology, processes, and standards up-to-date.
Get in Touch With Us to Learn More About Our Hydraulic Motor Rebuilds
At CB HYMAC, we utilize the Cleveland Brothers network with convenient locations throughout Pennsylvania and Northern West Virginia in order to receive your pump and motor. We will coordinate pick up from the location nearest you to get your pump and motor to our hydraulic shop in central Pennsylvania. Contact us today to learn more about our hydraulic pump repair parts and services and schedule your rebuild to keep your business thriving.