Hydraulic Repair and Resurfacing
Countless expensive parts can malfunction on your most crucial machinery at any moment, making it difficult for you to complete your work on time. At CB HYMAC, we offer Cat®-quality hydraulic repair services for a variety of components to keep your business moving forward.
CB HYMAC: Your Hydraulic Repair and Resurfacing Experts
We can apply quality hydraulic repairs using a variety of different services, like laser cladding, spray welding, and spot welding, to a number of different items, including exhaust manifolds, cylinder heads, spindles, yokes, directional and hydraulic control valves, drive shafts and final drive hubs. As a proud division of Cleveland Brothers, your local Cat dealership, we use genuine Caterpillar-made parts whenever possible to ensure your hydraulic repairs and rebuilds are up-to-par with the latest Cat standards.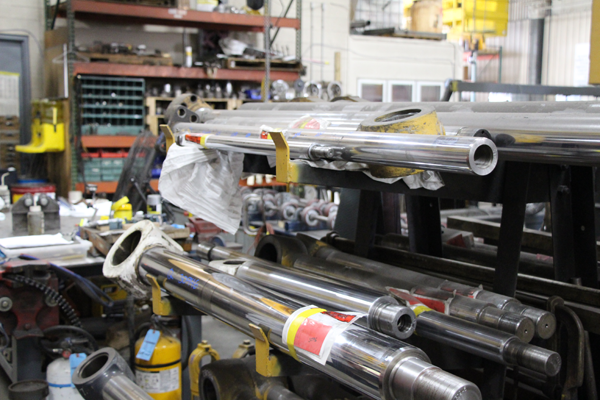 To ensure quality, we do everything we can to stay up-to-date with Cat equipment, but we don't stop there. Our expert in-house engineers can apply their extensive product knowledge of the world's leading heavy machinery manufacturer to components made by other leading equipment manufacturers such as John Deere, Komatsu, Case, and many other OEMs. Additional hydraulic items we can apply repairs to are:
Swing housings
Flywheels
Pivot shafts
High drive track telescopes
Bearing bores
Spools and rods
We have an impressive parts lapping capacity at CB HYMAC, and we can use a Blanchard grinder up to 36" or centerless grinding up to 2" to reach the correct precision for your specific equipment needs. Getting your components to us is easy, too. We will pick up your component at any Cleveland Brothers location throughout Pennsylvania and northern West Virginia. Select the location that's easiest for you and we'll for work at CB HYMAC.
Common Causes For Hydraulic Cylinder Failure
Hydraulic cylinders are a crucial component for efficient, streamlined hydraulic equipment performance. These hydraulic cylinders are often the most-frequently repaired component, driving up your facility's operational costs. The cause of these mechanical failures and repair needs is believed to be caused by the overall design of the hydraulic cylinder — they're not ideally designed for the environments they're working in. While the cylinders will operate as expected, their service life is greatly diminished.
The regular hydraulic cylinder failure and hydraulic cylinder repair costs likely result from:
Bent Rods: Bent cylinder rods are often caused by subpar materials with insufficient strength or rod diameter and improper cylinder mounting. When the rods bend, a large load is placed on the rod seal which eventually increases leaks and premature seal failure.
Ballooning Tubes: If the tubes balloon then the wall isn't thick enough or material strength isn't appropriate for the cylinder's operating pressure. After the tube balloons, highly pressurized fluids can then easily bypass the seal, eroding its materials and causing failure.
Rod Finishes: If the rod's surface is too smooth, the seal's lifespan can be diminished from lack of adequate lubrication, or if its too rough, too much leakage can seep through the seal.
Insufficient Bearing Area: If the bearing bands in the gland and the piston don't have the surface area necessary to support the thrusts from the cylinder, then the excessive load is placed on the rod and seals. When this happens, the seal is expected to fail early.
While damaged hydraulic cylinders are inconvenient and costly, with routine preventive maintenance on your hydraulics in addition to resurfacing services, you can reduce repair needs and expenses.
Benefits of Resurfacing Your Equipment Hydraulics
Hydraulic cylinder maintenance is a crucial process. As an important part of your hydraulic system, hydraulic cylinders are a vital component to your overall operations. Premature wear and failure can increase the work site's downtown and be costly and time-consuming to repair. With routine preventive maintenance on your hydraulic cylinders, resurfacing, and repair, you can ensure your components are in good condition. Additional benefits of resurfacing your equipment include:
Increased Lifespan: On typical chrome rods, seal failure occurs after approximately 350,000 cycles, but with regular chrome resurfacing your rods can perform for over one million cycles.
Reduced Cylinder Failure: With regular maintenance and resurfacing, you can catch inefficiencies early on before they become a problem later and be proactive about upgrades to improved system performance.
Superior Performance: High-quality chrome resurfacing is incredibly resistant to wear and corrosion for improved durability throughout its lifespan and reduced hydraulic cylinder failure.
Another reason to invest in routine hydraulic cylinder chrome resurfacing and maintenance is that these tasks can be completed in just under 24 hours with our state-of-the-art resurfacing tools and techniques — reducing downtimes and eliminating time-consuming last-minute repair needs.
CB HYMAC: A Top-Quality Hydraulic Repair Service in Your Region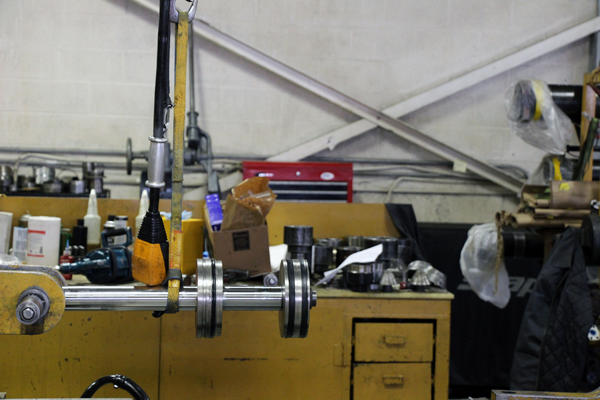 Our highly trained professionals have provided hydraulic repair services in a number of industries, including government, oil, and gas, mining, utilities, logging, and construction. We constantly evolve our services through our exclusive access to extensive Caterpillar service bulletins and technical support resources. No matter what line of work your business is in, you'll notice that we stay at the top of our industry with superior knowledge of industry's top equipment manufacturers, and we apply that knowledge to offer you a variety of benefits that make a huge difference:
Knowledgeable customer service representatives who offer support and answer questions to help you decide the correct course of action for your business and equipment needs
Electronic storage of every service record we have with you so we can notice patterns that indicate potential problem areas and help to eliminate future breakdowns
Factory-trained technicians and experienced engineers ready to tackle any project
Ability to quickly locate even rare replacement components
Complete hydraulic hose repairs available in less than 30 minutes, including certification, cleaning and capping
Fast delivery of parts and completion of services
Contact Us to Schedule Your Hydraulic Repairs or Resurfacing
If you've been searching for hydraulic repair services near you, look no further. CB HYMAC is your local certified Cat Component Rebuild Center (CRC), and we won't rest until any hydraulic component you need resurfaced is completed to the highest standards. Contact us to learn more or to schedule your hydraulic repairs today.