Hydraulic Pressure Valve Reconditioning and Repair Services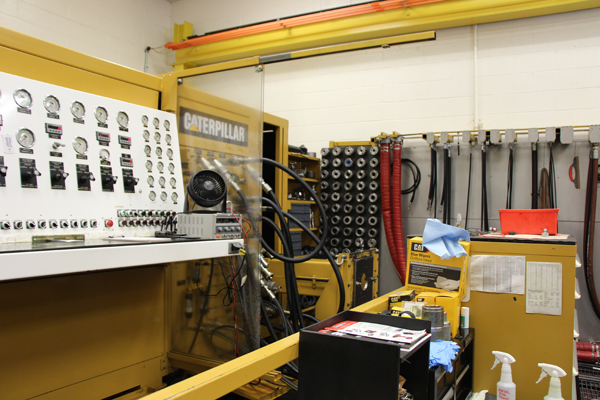 Sometimes, damages and wear and tear in even the smallest parts of the most important equipment can keep you from doing the work you do best. When you partner with CB HYMAC for your hydraulic valve repair services, we electronically store each and every detail of your service records to predict future breakdowns and prevent lost company hours. Instead of buying new equipment when a hydraulic pressure valve stops working properly, we make it possible for rebuilds and reconditioning to get your equipment back to working order quickly and much more affordably.
Some of the options we provide for your hydraulic pressure valves include:
To keep your equipment running smoothly, we can completely repair main control valves and hydraulic pressure valves that have become worn over time or damaged.
We offer in-house spray welding as well as chrome plating techniques.
Overall, our services mean extra profit for your business as you see your valves gain a second life through hydraulic valve reconditioning. When you can avoid repurchasing expensive equipment, you can focus your company's resources on additional progress and developments.
CB HYMAC — YOUR MOST TRUSTED HYDRAULIC VALVE REPAIR PROFESSIONALS
Today's worksites are more demanding than ever, and hydraulic systems operate under immense pressures and tighter tolerances than ever before. With regular use, these systems can suffer from wear and tear, prompting repair and replacement attention. While the hydraulic pump is the center of an effective hydraulic system, the pump couldn't function effectively without hydraulic valves to adjust pressure, flow and fluid direction.
When your hydraulic system is lagging in performance and showing signs of wear like unusual operational sounds, interior and exterior leaks, or failing valve seals, turn to the hydraulic valve repair specialists at CB HYMAC.
CB HYMAC helps machine owners keep their hydraulic systems running at peak efficiency with our expert hydraulic valve repair solutions. With our advanced repair center, sophisticated tools and equipment, and our skilled and factory-certified technicians, we offer comprehensive hydraulic valve repair services to help our clients affordably maintain their machinery and streamline their daily operations.
Every hydraulic valve repair is completed according to strict industry guidelines and specifications for complete, lasting repairs that improve the strength, dependability, and performance of your equipment. At CB HYMAC, we follow a precise repair process to provide the right solutions:
Valve analysis and inspection to quickly determine the cause of hydraulic system malfunction.
Determine appropriate repair and replacement needs and carefully disassemble the system and valves.
Inspect every individual component and replace damaged parts.
Complete the valve repairs, reassemble the unit, and perform final quality inspections to ensure repaired components adhere to all Cat cleanliness and quality control standards.
With hydraulic valve repair services by CB HYMAC, you can extend the lifespan of your equipment and receive the best value from your investment.
COMPLETE HYDRAULIC PRESSURE VALVE REPAIR SERVICES
Each piece of equipment utilizes different hydraulic valves that perform different functions to ensure the smooth functioning of heavy-duty equipment. At CB HYMAC, we specialize in the repair and replacement of a variety of different hydraulic valves:
Flow control valves: A flow valve controls and limits the flow of liquids, ranging from full blockage to open flow. Flow valves work by increasing or decreasing the diameter of the opening.
Pressure control valves: In heavy-duty equipment, pressure valves are the most common type of hydraulic valve, working to switch pressure gradually or suddenly using predetermined pressure settings.
Directional control valves: To stop and start the flow of hydraulic fluids, systems use directional control valves. A valve spool directs the flow of fluids to a desired circuit.
Even with routine maintenance, it's common for these valves to wear down and become damaged with use. That's where the trained technicians at CB HYMAC come in. With extensive training and experience, our technicians can quickly inspect your hydraulic valves and determine the most effective solution.
For the convenience of our clients, we also offer responsive emergency repair services and arrive for all after-hours calls promptly and ready to identify your repair needs.
Benefits of Choosing CB HYMAC as Your Hydraulic Valve Repair Service
We are a division of Cleveland Brothers, your local Cat® dealership, and we're officially recognized as a certified Cat Component Rebuild Center (CRC). We take it seriously that any repairs, rebuilds or reconditioning completed by our expert technicians reach certified Cat standards, and we use our exclusive access to Caterpillar technical support, data and service bulletins to make sure. We take pride in knowing Cat equipment better than any other company in the business, and we also work regularly on components from other leading equipment manufacturers.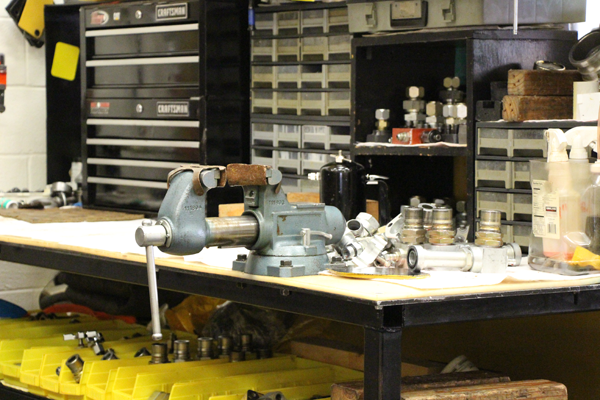 Other reasons to bring your hydraulic pressure valves to CB HYMAC for reconditioning are our:
Use of authentic Cat components whenever applicable
Ability to find even rare replacement items quickly
Electronic storage of your detailed service records, which canhelp detect potential problems early
Rapid completion of hydraulic hose repairs and rebuilds, including certification, cleaning and capping in 30 minutes or less
Professional and top-notch support to help you choose the right course of action for your price point and line of work
Partner With CB HYMAC to Keep Your Hydraulic Pressure Valves Top Notch
With skilled technicians and state-of-the-art equipment, CB HYMAC is the right choice for your hydraulic valve repair services. We happily provide hydraulic valve repair solutions and emergency after-hours repairs for clients throughout Pennsylvania and West Virginia. Our highly skilled professionals have supplied services like hydraulic valve reconditioning across several industries, including railroad, oil and gas, mining, construction, logging, government, utilities, manufacturing and agriculture.
Partner with CB HYMAC no matter what your line of work is, and we will have your hydraulic valves up and running in no time — and for less than it would cost you to repurchase equipment. Contact us today for more information about our hydraulic pressure valve repair services and additional Cat maintenance services. Our representatives are happy to answer all of your questions and help you schedule services.