HYDRAULIC REPAIR AND REBUILD SERVICES FOR THE OIL & GAS INDUSTRY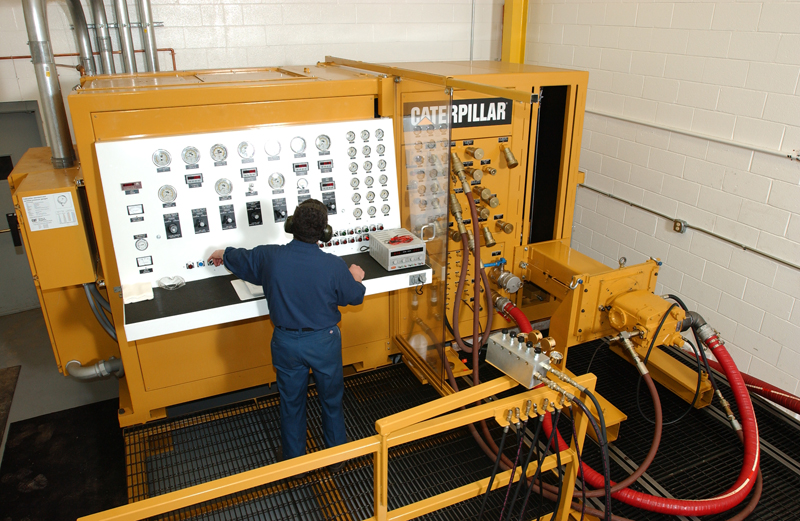 Hydraulic equipment used in the oil and gas industry is put to the test in rugged and challenging applications and environments every day. Due to the extreme stress and challenges of pumping applications, sooner or later, your mission-critical equipment is going to require maintenance and repairs. If you're searching for a local, reliable source for fluid end parts, services and manufacturing, CB HYMAC has the broad capabilities you're looking for in Pennsylvania, northern West Virginia and the surrounding areas.
Whether you need to repair hydraulic fracturing pumps or replace or rebuild components on a Cat® hydraulic excavator, CB HYMAC has the expertise to get the job done right. From hydraulic cylinder, pump and motor repair to custom machining and chroming, we're a single, reliable source for the services you require. Our knowledgeable and attentive team will work with you to identify the solutions that help your business operate more efficiently.
HYDRAULIC FRACTURING EQUIPMENT REPAIRS AND REBUILDS
CB HYMAC serves the needs of oil and gas operations throughout Pennsylvania and Northern West Virginia. We specialize in repairing and rebuilding a broad range of hydraulic fracturing oil production equipment, systems and components. Whether you need to repair a crankshaft on an off-highway truck or build a custom cylinder for a unique application, we offer high-quality service options to keep your repair costs down.
We're proud to be an official Cat Component Rebuild Center (CRC). When you partner with us, you benefit from the most sophisticated repair and diagnostic tools delivering exceptional accuracy and consistent results. We have exclusive access to Cat technical support and service bulletins to keep us up to date on the latest industry advancements. All of our frac pump fluid end services are performed at our conveniently located shop featuring state-of-the-art tools and technologies.
Our frac pump fluid end services include:
CNC machining and laser clad welding
Complete rebuilds of power end and crankshafts
Repairs and rebuilds of heavy-duty hammers and winches
Component and equipment testing and inspection
Exchange component programs and more
WE ARE YOUR SOURCE FOR FRAC PUMP FLUID END MANUFACTURING
With the rise in demand for fluid ends in the growing fracking industry, having access to durable and reliable equipment is key to remaining productive and competitive. CB HYMAC answers the call for a partner capable of manufacturing fluid ends for the oil and gas industry. Whether you need to replace damaged components, are expanding your fleet or require a custom solution for a specialty application, we can be the go-to source for everything you need.
When you choose us as your fluid end manufacturers, you gain a partner dedicated to your business's success. Our cutting-edge manufacturing capabilities make it possible for us to design and engineer equipment and components that keep your processes flowing smoothly and maintain peak performance in the toughest job sites and conditions. From competitive prices and a fast turnaround on orders to trusted advice and exceptional product knowledge and industry experience, we make sure you can gain plenty of benefits by partnering with CB HYMAC.
CB HYMAC HAS THE EXPERTISE TO SERVICE ALL TYPES OF OIL AND GAS HYDRAULIC EQUIPMENT
As a division of Cleveland Brothers, the authorized Cat dealer for the region, we offer unmatched product knowledge and world-class hydraulic shop capabilities. In addition to servicing hydraulic fracturing oil production equipment, we also work on all different models of Cat and Allied manufactured site prep and compression and pipeline equipment. We electronically store all of your service records, making it possible to identify trends that indicate the potential for breakdowns and other issues with your hydraulic systems.
From fluid analysis and chrome and polishing to rebuilds of power ends, winches, crankshafts and other components, we'll help improve the performance and extended the service life of your mission-critical equipment.
Additional reasons to choose us to repair or rebuild your hydraulic fracturing pumps and related machines include:
Genuine Cat parts used whenever applicable
Cat-certified warranty work, repairs and component rebuilds
Exchange inventory of TH transmissions for frac trailers
Hydraulic hose repairs completed in 30 minutes or less
Ability to quickly track down hard-to-find replacement parts
Convenient component drop-off locations to serve you throughout the region
OIL & GAS INDUSTRY EQUIPMENT MAINTENANCE SOLUTIONS
The best way to keep your oil and gas operation running at peak capacity is by performing basic services and timely repairs. As a full-service dealer, we offer a complete selection of preventive maintenance solutions ranging from inspections and maintenance performed at regular intervals to advanced equipment monitoring and management. No matter the size of your fleet or the challenges of your industry, we'll customize a plan that reduces long-term costs and eliminates downtime and loss of productivity.
FRAC PUMP FLUID END PARTS
Whether you're in the market for shop and maintenance supplies or looking for quality parts and components, we have you covered. We carry an array of frac pump parts for all different types of fluid ends from leading brands. You'll find gaskets, valves, flanges, springs, assemblies and a variety of other products. When you place an order with us, we'll get you the parts you need fast to keep your equipment in prime condition.
SCHEDULE YOUR HYDRAULIC FRACTURING OIL EQUIPMENT SERVICES TODAY
CB HYMAC is dedicated to helping businesses in the oil and gas industry save time and money repairing or rebuilding hydraulic equipment and components. We offer competitive prices and fast service in the shop or the field. Additional reasons to choose us for your oil and gas industry parts, services and manufacturing include:
More than 60 trained technicians to serve you
Exceptional service and ongoing technical support
Conveniently placed locations throughout our territory
Money-saving specials and competitive rates
Financing, warranty and insurance options
Give us a call or submit an online contact form to request assistance from a live representative. Our professional representatives will be happy to help analyze your needs to identify the hydraulic equipment services that make the most sense for your operation.