Hydraulic Repair and Rebuild Services for the Oil & Gas Industry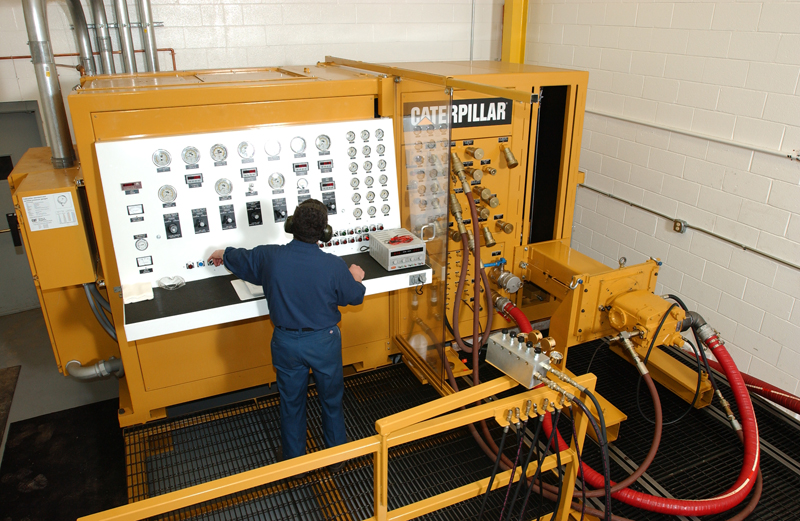 Hydraulic equipment used in the oil and gas industry is put to the test in rugged and challenging applications and environments every day. Whether you need to repair hydraulic fracturing pumps or replace or rebuild components on a Cat® hydraulic excavator, CB HYMAC has the expertise to get the job done right. From hydraulic cylinder, pump and motor repair to custom machining and chroming, we're a single, reliable source for the services you require.
Hydraulic Fracturing Equipment Repairs and Rebuilds
CB HYMAC serves the needs of oil and gas operations throughout Pennsylvania and Northern West Virginia. We specialize in repairing and rebuilding a broad range of hydraulic fracturing oil production equipment, systems and components. Whether you need to repair a crankshaft on an off-highway truck or build a custom cylinder for a unique application, we offer high-quality service options to keep your repair costs down.
We're proud to be an official Cat Component Rebuild Center (CRC). When you partner with us, you benefit from the most sophisticated repair and diagnostic tools delivering exceptional accuracy and consistent results. We have exclusive access to Cat technical support and service bulletins to keep us up to date on the latest industry advancements.
CB HYMAC Has the Expertise to Service All Types of Oil and Gas Hydraulic Equipment
As a division of Cleveland Brothers, the authorized Cat dealer for the region, we offer unmatched product knowledge and world-class hydraulic shop capabilities. In addition to servicing hydraulic fracturing oil production equipment, we also work on all different models of Cat and Allied manufactured site prep and compression and pipeline equipment. We electronically store all of your service records, making it possible to identify trends that indicate the potential for breakdowns and other issues with your hydraulic systems.
From fluid analysis and chrome and polishing to rebuilds of power ends, winches, crankshafts and other components, we'll help improve the performance and extended the service life of your mission-critical equipment.
Additional reasons to choose us to repair or rebuild your hydraulic fracturing pumps and related machines include:
Genuine Cat parts used whenever applicable
Cat-certified warranty work, repairs and component rebuilds
Exchange inventory of TH transmissions for frac trailers
Hydraulic hose repairs completed in 30 minutes of less
Ability to quickly track down hard-to-find replacement parts
Convenient component drop-off locations to serve you throughout the region
Schedule Your Hydraulic Fracturing Oil Equipment Services Today
CB HYMAC is dedicated to helping businesses in the oil and gas industry save time and money repairing or rebuilding hydraulic equipment and components. We offer competitive prices and fast service in the shop or the field. Give us a call or submit an online contact form to request assistance from a live representative. Our professional representatives will be happy to help analyze your needs to identify the hydraulic equipment services that make the most sense for your operation.