At CB HYMAC, we offer a variety of machining, chroming and fabrication services to meet your needs. No matter the industry or application, our experienced engineers and technicians can design and manufacture components to machine specifications.
Machine Shop Equipment
Our complete machining shop features top-quality equipment from traditional hand cranked to computer numerical controlled mills, lathes and turning centers. Our wide selection of equipment allows us to machine components up to 11 feet by 7 feet.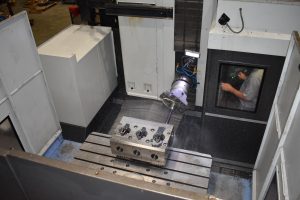 Summit Vertical Boring Mill with capacities of 7 ft. in height by 11 ft. width
Dorries Scharmann Mill with dual pallet 35,000 lb. capacity each
Doosan DBC Mill
Haas EC 1600 Mill
Okuma 5-axis Lathe
Doosan Lathe PUMA 400LM with live tooling capabilities
Milltronics ML26 Lathe with a 120 in. bed
Magnaflux MPI Test Equipment – Large crankshafts up to 2500 Quins
Hydraulic Shop Equipment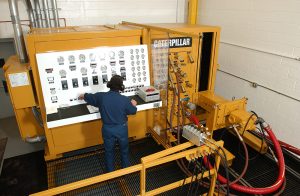 The hydraulic shop at CB HYMAC has the most versatile range of capabilities throughout the Pennsylvania region. We have remanufactured over 2,000 types of cylinders, valves, pumps and motors.
Our hydraulic shop is equipped with the following:
Hydraulic & Emulsion Fluid Test Bench – up to 10,000 PSI
Torque Capabilities – up to 100,000 ft. lb.
Hydraulic Pump Test Bench – 400 HP / 2500 RPM / 200 Gallon Flow
Nitrogen Charge Station – 850 PSI
Winch Test Bench – 125 hp  hydraulic & manual winch testing
Cylinder Manufacturing and Repair Equipment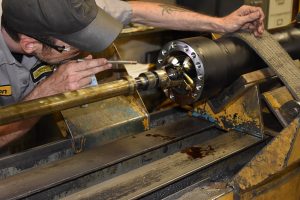 The CB HYMAC cylinder shop features equipment stations for honing, rebuilding, resealing, resizing, re-tubing and re-chroming.
Our cylinder shop features equipment that can handle cylinder honing up to 40 feet in length and 25 feet in diameter.
Assembly / Disassembly Bench – up to 70,000 ft. lb
Cylinder Hone Bench – up to 40 ft. length by 25 in. diameter
Cylinder Test Bench – up to 5,000 PSI
Cylindrical Grinding – 2,400 lb max weight, 24 in. X 120 in.
Platform Drill Cylinder Test Bench – Up to 75 ft.
Hammer Repair & Rebuild Equipment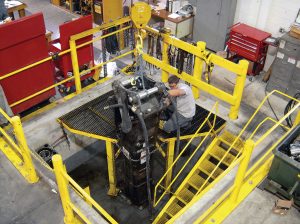 We service the widest range of industrial hammers. From repairs to complete rebuilds, our hammer rebuild shop outputs the highest quality of service work you'll find throughout the U.S.
Our hammer shop features:
State of the Art Hammer Rebuild Pit – up to 10,000 lb. hammers
Hammer Test Bench with live tool loading –  up to 10,000 lb. hammers
Welding & Fabrication Shop Equipment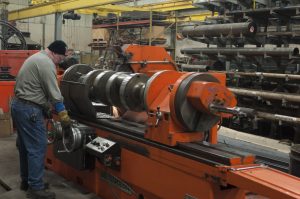 CB HYMAC offers unmatched expertise in welding and fabrication services. Our expert welders use the best equipment in the industry to provide the highest quality service and output.
Crankshaft welding and repair – 96 in. capacity / 2250 –Tri and 2500 Quins
Laser Cladding System – 2 in. to 30 in. diameter / 6 in. to 138 in. length
Bortech Auto Welders – up to 10 ft. diameter
Chroming & Polishing Shop Equipment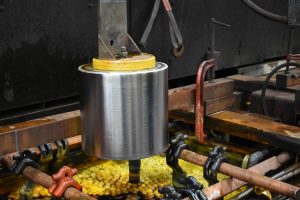 Our chrome shop features the largest chroming tanks in the region. CB HYMAC can chrome and polish cylinders up to 38 feet in height and 24 inches in diameter. Since 2004, we've chromed over 30,000 cylinder rods.
Quality Assurance Technology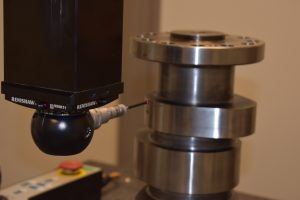 For high precision and greater accuracy, CB HYMAC programmatically collects the exact measurements of an object using a Brown & Sharpe Coordinate Measuring Machine (CMM) system. The system features point-to-point scanning on all three-axes to fully inspect the entire object.
We enlist the system during initial, mid-production and final inspections to ensure parts and components are machined to exact specifications. In addition to precise machining, collection of the electronic measurements allows for quicker reproduction of parts and faster inspections.