A Mining Sprocket Revolutionized with CB HYMAC Services
by: Kelley Sloyer | December 7, 2020
When continuously worked under the harshest conditions, even the most durable parts need restored. If you have uniquely shaped, custom or hard-to-replace parts, like this mining sprocket ring, CB HYMAC can restore your parts with skilled machining and welding. For an extensive list of services offered by CB HYMAC, click here.
This sprocket ring, used to drive chains underground, helped transport coal from one conveyor to the next. After extensive use, the curves of the sprocket needed to advance the conveyor started to wear and were eventually in need of repair. Since these rings are so unique, it is very costly to replace. Instead, the customer turned to CB HYMAC for their specialty welding, machining and chroming solutions. CB HYMAC offers many mining solutions and can accommodate even the largest, most intricate parts.
Mining Sprocket BEFORE CB HYMAC Welding and Machining Services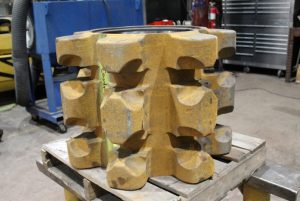 For a part like this, there are several steps that must be completed to transform the sprocket ring.
CB HYMAC Parts Restoration Process:
Initial Inspection: Our team performs a Magnaflux process to check for any cracks during an initial inspection to scope out the repairs required.
Welding: Our technicians weld each worn down section, following Cat® Salvage Guidelines. For a part like this sprocket ring, it takes nearly 20 hours to weld.
Machining: After the material is added to the sprocket, the part goes into the horizontal CNC Milling machine, where the profile of the part is refined to the exact dimensions needed, no matter how unique or complex. This process takes an additional 16 hours.
Final Inspection: Once the sprocket ring is repaired, it goes through one more round of Magnaflux testing to ensure no cracks occurred during the welding and cooling process. The technician then examines the sprocket and goes through a quality control inspection to ensure it meets Cat Salvage Guidelines and strict standards.
Mining Sprocket AFTER CB HYMAC Welding and Machining Services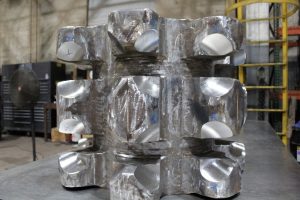 Salvaging parts, like this mining sprocket ring, is a cost-saving alternative to replacing entire parts. Essentially any part, no matter how custom or unique the shape and profile is, CB HYMAC can repair at a fraction of the cost. Whether you need a mining part, machine attachment or engine component, CB HYMAC can repair the part you need.
For more information, please contact a CB HYMAC representative today at 1-866-268-1714.