CB HYMAC Now Offers Laser Clad Services
by: Kelley Sloyer | November 6, 2017

CB HYMAC, a division of Cleveland Brothers, continues to introduce advanced technologies to its growing operations and will now offer Laser Cladding services. As a trusted source in machining, fabrication, and chroming, CB HYMAC is dedicated to providing customers with quality metal works. The investment in laser clad technology further strengthens the surface repair offerings available at the machining shop.
What is Laser Cladding?
Laser cladding, an alternative to traditional welding, is a state-of-the-art surface technology utilizing CNC technology to accomplish precise welding specifications.  The infrared beam emits a low heat input onto material deposits to create a thin layer of coating; multiple layers are applied to meet thickness specifications. The lower weld temperature transfers less heat onto the base metal which causes no damage or disturbance to the metallurgic bond. The outcome is no flaking, chipping, peeling, cracking and a reduction in corrosion from the base material compared to traditional welding.
Better Product, Same Quality Service.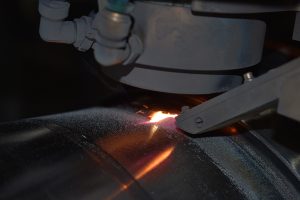 CB HYMAC is the only machining and fabrication shop to offer laser clad welding services in Pennsylvania. The new high-precision welding service provides customers with a better product and no rework resulting in a faster turnaround time so machines are back up and running sooner.  Furthermore, customers can expect cost-saving advantages to laser clad welding compared to traditional welding.
The precision, accuracy, and high tolerances make this service ideal for applications in demanding areas where performance is important. Laser cladding is most commonly used in the energy sectors including underground mining and oil and gas to resurface turbine blades, drilling equipment, and hydraulic components such as cylinders, struts, and pivot shafts.
Benefits of Laser Cladding
Extended component lifetime
Achieves a full metallurgical bond with precise metal deposit application and low heat input
Superior corrosion and wear resistance properties
No flaking, chipping, cracking, or peeling compared to traditional welding
Reduced thermal distortion
Unlimited clad thickness
Types of Metals
CB HYMAC works with a wide range of metal deposits.
300 & 400 Stainless Steel Alloys
Duplex Stainless Steel
Nickel & Tungsten Carbide
Nickel & Chromium-based Alloy
Nickel & Chromium-based Superalloy
Inconel-based Alloys
Cobalt-based Alloys
Iron-based Alloys
CB HYMAC has the ability to clad up to 30 inches in cylindrical diameter to as low as two inches in diameter with a max length of 138 inches.
The addition of laser cladding technology puts a stamp on the dedication from CB HYMAC to be the industry's top machine shop.
Learn more about laser clad services at CB HYMAC. View all of our services or send us a message to schedule a tour to see it in action. For tours, call 866-268-1714.